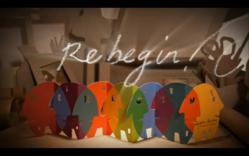 The moment we join in a conversation, we've begun to collaborate.
New Haven, Conn. (PRWEB) March 07, 2013
The architecture firm Svigals + Partners has announced the debut of a new animated short, Rebegin the Conversation!, and a companion fold-out card – the third in a series of annual mixed-media greetings that are generating discussion in the design community and beyond.
The multimedia effort, developed with designer Randall Hoyt, delivers the central philosophy of the 25-person architecture, art and consulting firm: that creative, high-level collaboration is the best way to reach an organization's goals. The animated short suggests to the viewer that "the many conversations, great and small renew us with a fresh perspective." The paper greeting, composed of colorful, intertwined faces that appear in the animation, reinforces the message.
Svigals + Partners has previously released two stop-action shorts, Weave our Talents Together and A Place for Community. Like those films, Rebegin utilizes the visual theme of animating paper sculptures designed by architect and artist Barry Svigals, FAIA. The film depicts a drawing coming to life in a darkened design studio, with vibrant paper figures called "Togetherlings" joining one another in a dance of creativity. As the Togetherlings begin "collaborating their messages into one," it becomes clear that their combined message is to rebegin their ongoing conversation, because it is more than mere business—it is the "boundless collaboration that is life on Earth," according to Svigals.
"Our client work – whether architecture, art or organizational consulting – begins with wide-ranging conversation," says Svigals, co-author of the book Collaboration. "The most valuable ideas always result from this collaboration, among individuals and groups. The moment we join in a conversation, we've begun to collaborate. Indeed, every gathering is a collaboration; we need to realize that and make the most of them."
Art that inspires strategic thinking
Svigals + Partners' work as a consultancy firm includes a process of strategic and creative engagement known as Boundless Resources™, a signature approach for adding value to any endeavor. Designed to holistically address a client's challenges and problems, the method reveals existing potential for growth within the client organization. The philosophical roots of this proprietary method are revealed in the themes at play in the animation Rebegin.
"The joining of individual ideas through conversation into a collaborative thread is expressed through the Togetherlings' cutout eyes, which are in the shape of letters," says Randall Hoyt, the award-winning artist who collaborates with Svigals. "After the Togetherling dance reveals that the individual letters form the word 'rebegin,' the conversation explodes into diverse but interrelated messages."
These messages are printed on the paper greeting recently sent to the firm's clients and colleagues, and they include inspirational suggestions such as "Exuberance awakens every endeavor" and "Walk past the edge of what you know."
The new animation is one of many collaborative efforts between Svigals and Hoyt. In 2010, Svigals + Partners was selected a winner in the prestigious 2010 Design Competition by Communication Arts, an international trade journal of visual communications, for its inspirational postcard campaign called REJO+CE.
Messaging with mixed media
Svigals + Partners uses these artistic communications to promote their positive messages of collaboration and confluence, as well as to illuminate the successes of the firm's signature approaches. The first is the firm's Boundless Resources™ methodology, which helps organizations integrate the diversity of their interests, talents and professional backgrounds for collaborative ventures to inspire the most creative, comprehensive results.
"Our method in Boundless Resources focuses on adding value to a client's endeavors, which is the key to professional services today," Svigals explains. "It begins with thoroughly understanding the problem as the client has defined it, but it can't end there. An essential dimension of the service we provide must include the next layer out: revealing their existing potential and leveraging it to new heights."
This approach has helped differentiate Svigals + Partners, making the firm a high-level, trusted advisor to decision-makers at life science companies, emerging start-ups, global corporations, educational districts and not-for-profit organizations.
A second signature approach offered by the firm is the integration of art and figurative sculpture, incorporated seamlessly into the architecture. This unique integration is in evidence in the firm's award-winning schools, university buildings, laboratories and corporate workplaces.
Svigals and Hoyt craft their annual messaging campaign to deliver a visual allegory of these themes, as well as methods espoused by Svigals + Partners. They also reveal the firm's values: community, collaboration, delight, and enlivening the human spirit, to name a few. In contrast to typical promotional campaigns by architectural firms, Svigals + Partners' continue to express a vision of its practice through visceral, multi-dimensional means – artful, animated stories of boundlessness, renewal and shared goals.
All three films—Rebegin the Conversation! (2013), Weave Our Talents Together (2012) and A Place for Community (2011)—and the REJO+CE photographs and mailers can be viewed at the firm's dedicated website, http://www.architectureplusart.com.
"We invite everyone to join in the conversation," said Svigals. "The sooner we 'rebegin,' the sooner we can bring our individual and shared goals to fruition."
###
For more information, images and interviews, please contact
Chris Sullivan at (914) 462-2096 or by email, chris(at)ccsullivan(dot)com.
About Svigals + Partners
Based in New Haven, Connecticut, the full-service architecture and planning firm Svigals + Partners has specialized in the design and construction of educational facilities since its inception in 1983. Known for its original and imaginative integration of planning, design, sculpture and artwork, the firm is committed to "bringing the beauty, relevance and distinction of figurative art into the architecture of the 21st century." Svigals + Partners offers a complete range of architectural services from master planning, site selection and feasibility studies through design and construction. In the firm's portfolio are major K-8 educational projects as well as 25 years of new and renovated university buildings. Other areas of specialization include laboratories, corporate facilities and master planning. For more information, visit http://www.svigals.com.