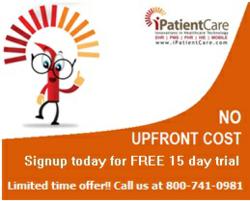 Woodbridge, NJ (PRWEB) March 12, 2013
iPatientCare, a market leader in Meaningful Use Certified Ambulatory and Inpatient EHR, Integrated Practice Management Systems, Patient Portal, and mHealth solutions today announced that SureScripts, the Nation's ePrescription Network and the backbone that gives healthcare providers secure, electronic access to prescription and health information that can save their patients' lives, certified that iPatientCare EHR and ePrescribing meet the new most up-to-date requirements of all the three core SureScripts services, namely, Prescription Benefits, Prescription History and Prescription Routing.
"This certification ensures that the iPatientCare EHR software is able to send and receive electronic messages in accordance with the latest industry standards and that it is providing open choice for medication selection and dispensing location including mail order pharmacies. Additionally, iPatientCare EMR passed the rigorous standards on patient safety, efficiency of the electronic prescribing process and ease of use by end-users", said Shripal Shah, Sr. Technology Officer, iPatientCare.
Kedar Mehta, Chief Technology Officer stated, "iPatientCare is committed to remain compliant with the most recent industry standards. The updated SureScripts certification ensures that our physicians would continue to use ePrescribing services with the enhanced capabilities that improve patient safety, reduce medication costs, and enhance practice efficiencies."
About iPatientCare
iPatientCare, Inc. is a privately held medical informatics company based at Woodbridge, New Jersey. The company is known for its pioneering contribution to mHealth and Cloud based unified product suite that include Electronic Health/Medical Record and integrated Practice Management/Billing System, Patient Portal/PHR, Health Information Exchange (HIE), and mobile point-of-care solutions that serve the ambulatory, acute/sub acute, emergency and home health market segments. iPatientCare EHR was among the first to be certified by CCHIT in July 2006 and is currently CCHIT 2011 fully certified and ONC-ATCB 2011/2012 Certified Complete EHR for Meaningful Use.
The company has won numerous awards for its EHR technology and is recognized as an innovator in the field, being a pioneer to offer an EHR technology on a handheld device, an innovative First Responder technology to the US Army for its Theatre Medical Information System, the first to offer a Cloud based EHR product. iPatientCare is recognized as one of the best EHR and Integrated PM Systems for small and medium sized physicians' offices; has been awarded the most number of industry Awards; and has been recognized as a qualified/MU partner by numerous Regional Extension Centers (REC), hospitals/health systems, and academies. Visit http://www.iPatientCare.com for more information.