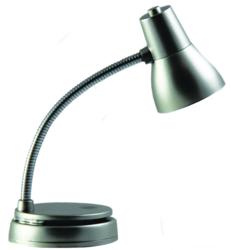 Tuck the Tiny Task LED Light in your purse, your backpack — even your pocket — for energy-efficient light at a moment's notice.
Santa Barbara, CA (PRWEB) March 07, 2013
Mighty Bright, designer and manufacturer of innovative LED lights, announces the Tiny Task LED Light, the newest addition to the company's line of portable LED lights. Designed to resemble a classic desk lamp, the Tiny Task LED Light adds a nostalgic touch wherever it is used. The Tiny Task LED Light is available at retail stores, bookstores, and at Mighty Bright's online store.
Petite Profile, Bright LED Light
Mighty Bright's Tiny Task LED Light has a unique frame, but it also provides functional light. Move and point the Tiny Task's flexible neck and rotate and pivot the shade to target the light. The light's single LED pushes out bright white light to illuminate any task at hand. It's perfect for low-light reading, traveling, or as your new sidekick: tuck the Tiny Task in your purse, your backpack — even your pocket — for energy-efficient LED light at a moment's notice.
Tiny Task LED Light features:
Miniature LED utility light
Small footprint / petite profile
Bright white, energy-efficient LED
LEDs lasts 100,000 hours, no replacement necessary
Flexible neck keeps light in place
Sliding clip grips papers, books, magazines
Lightweight, very portable
Rubber base keeps light from slipping
3 lumens
Battery Life: 4 hours
Powered by 2 CR2016 batteries
Available in Silver, Blue, Purple, and Pink
MSRP $9.99
About Mighty Bright
Mighty Bright wants everyone to have light — wherever and whenever they need it. Based in Santa Barbara, CA, Mighty Bright designs and manufactures portable LED lights and LED task lights for home and office. Our lines of eco-friendly LED lights make lives easier — whether they are used for reading, performing a favorite tune, crafting, or even camping. Mighty Bright lights blend ease of use and affordability with impressive functionality, durability and portability. No matter your illumination needs, Mighty Bright is there to fill them. Contact Mighty Bright at 800.922.3233 or visit http://www.mightybright.com.