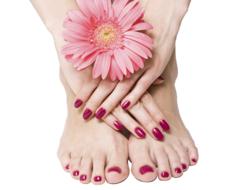 On average 3 in 4 people in the UK suffer from foot problems.
Oxfordshire (PRWEB UK) 7 March 2013
In today's generation most imperfections can be easily concealed thanks to countless number of high street cosmetics available, others however require more attention and careful maintenance.
On average 3 in 4 people in the UK suffer from foot problems. Factors such as age, lifestyle habits, and environmental changes, all play a role in the increased cases of foot problems causing shame and embarrassment to even the healthiest individual. Captured in consumer magazines, even the rich and famous at some point are faced with beauty malfunctions due to hard, rough, tired and painful looking feet.
People forget that just as a car needs regular servicing after continuous lengthy journeys, the feet do to. From spending hours during the day in work heels, evenings at the gym and then finishing the day off in the most uncomfortable platforms, this pressure can no doubt cause exhaustion and severe pain to the feet. If not carefully maintained, over worked feet do not only cause pains and discomfort but can begin to look extremely unattractive in the long run.
Hands and feet are the last of anyone's worry, when it comes to pampering. Easily tucked away in socks and tights, the feet can be disguised when needed, but remember a problem hidden is not a problem solved, so looking after the one part of the body that struggles the most is vital. Now with summer around the corner, it is not long before the feet are revealed, making this the perfect time to start paying attention to the feet.
To help maintain healthier feet, Hunter and Heath have launched an extended line to the ClearZal® foot care range. The well-established foot care brand, ClearZal® after years of experience are now launching an extended range of foot crèmes to help provide the right solution for healthy feet.
Specialising in foot care the ClearZal® range offers a unique triple action formula designed to solve the most common foot problems, so whether it's to moisturise dry feet, revitalise tired looking feet or to remove hard skin from beneath the sole- ClearZal® promises to solve common foot problems that many may suffer, leaving the feet looking soft, smooth and silky.