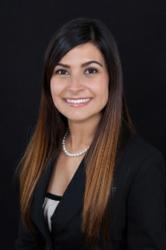 I understand that my clients work hard and are not always in the best financial situation. Therefore, when I am negotiating an amount for any support order, I try to negotiate an amount that is not only fair, but also reasonable for my client to pay
Los Angeles, CA (PRWEB) March 06, 2013
A Wallin & Klarich client recently was able to negotiate with his former spouse to reach an agreement where the client paid a family support amount that would not be detrimental to his financial situation. The client was represented by experienced Orange County child support attorney, Yvette Ochoa, who assisted the client through negotiations and the legal process.
"I understand that my clients work hard and are not always in the best financial situation. Therefore, when I am negotiating an amount for any support order, I try to negotiate an amount that is not only fair, but also reasonable for my client to pay," said Ms. Ochoa.
According to court record from Orange County Superior Court, Lamoreaux Justice Center, the client and his former spouse had been married for almost 19 years when the two decided to separate. The client had three children with his former spouse. Since the separation, the client had been voluntarily providing his former spouse with $1,500 per month as financial support. The client's former spouse, who was looking to put a deposit down on a new apartment, later filed an ex parte request to increase the financial support to $2,000 a month.
Ms. Ochoa was able to get the ex parte request denied because the client's former spouse had not given proper notice to the client and the client was already paying $1,500 to his former spouse per month. A hearing was rescheduled for three weeks later where both parties could be heard regarding the support issue. Before the scheduled hearing, Ms. Ochoa ran the Dissomaster numbers, which the court looks to in order to determine child and spousal support awards. The numbers totaled to $611 in Orange County spousal support and $2550 in child support per month. Ms. Ochoa knew that this total amount would be a financial burden for the client and started negotiations with the other party.
After negotiating with the client's former spouse and confirming with the client, Orange County family law attorney, Yvette Ochoa was able to arrange an agreement where the client was only required to pay $1800 a month for both spousal and child support. Ms. Ochoa kept the client's best interests in mind and as a result the client saved over $750 a month and will not suffer a substantial financial burden because of the support awards, according to court record. Ms. Ochoa was aware that the client's former spouse was originally asking for a higher support award, but by using her experience in negotiations and describing the circumstances of the case to the client's former spouse, she was able to reach an agreement.
###
About Wallin & Klarich
As a premiere criminal defense and family law firm based in California, Wallin and Klarich ( http://www.WKLaw.com and http://www.WKFamilyLaw.com) has been assisting clients from across the country for over thirty years. The firm believes that every person is entitled to the highest quality legal assistance when it comes to facing difficult situations and has committed all of its resources to aggressively defending its clients. The firm has established itself as one of the most successful in the nation when it comes to defending against charges of DUI, criminal matters and sex crimes, and is acknowledged for successfully handling divorce and child custody cases. By making certain that our clients legal rights are always protected we take the "fear" out of the legal fight.