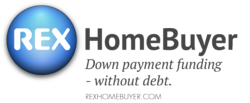 REX HomeBuyer can double the amount of cash a buyer has available to help get them into the home they really want, today.
San Francisco, CA (PRWEB) March 28, 2013
FirstREX, the industry leader in residential real estate equity finance, is now offering down payment funding on home purchases throughout California. Through its innovative REX HomeBuyer program, FirstREX is the first to bring the benefit of down payment financing to buyers at all price levels. Buyers who have the credit and income to qualify for a mortgage but are uncomfortable with or unable to meet lenders' down payment requirements now have a financing solution designed to fit their needs.
FirstREX will fund up to half the down payment required by a mortgage lender. The down payment funding is not loan, grant or subsidy. It is an equity investment, so there's no interest and homeowners make no monthly payments to FirstREX - ever. The company earns a return on its investment when the homeowner decides to sell their home, up to 30 years in the future. If the home has increased in value, the company shares a portion of the profit. If the home has decreased in value, FirstREX typically shares in the loss. Homeowners also have the flexibility to part ways with FirstREX at any time without selling their home, by repurchasing the company's interest in the home.
"California, in particular the Bay Area and Southern California, has some of the highest housing prices in the nation. Even high income families are challenged by the down payment requirements when buying a home," says Jim Riccitelli, Co-CEO of FirstREX. "REX HomeBuyer changes that. We can double the amount of cash a buyer has available to help get them into the home they really want, today."
Today's low interest rates on loans make owning a home more affordable than it has ever been. The paradox is that the mortgage lender's higher down payment and cash reserve requirements make buying that home harder than ever. "Large down payment requirements often force buyers to make compromises in terms of commute, school district and home size. Some families are simply short on cash, while others have the cash but want to hold on to some if it for remodeling, home furnishings, other investments or just for a rainy day. Either way, REX HomeBuyer can have a powerful impact on buyer satisfaction and financial peace of mind. We're proud to offer a product that can truly improve people's lives."
About FirstREX
Founded in 2004, FirstREX provides homeowners and home buyers with smart new financing alternatives to home equity loans and mortgage debt. Neither a lender nor a bank, FirstREX makes long term investments in individual residential properties through two innovative home equity sharing products: REX HomeBuyer, which helps people purchase homes, and the REX Agreement, which allows current homeowners to tap their home equity without interest or monthly payments. FirstREX's consumer solutions have earned national recognition from prominent newspapers and magazines including the Wall Street Journal, Business Week and the New York Times.