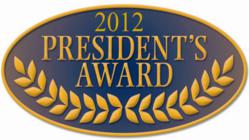 We need to continue to commit to the highest standards of customer service.
Alliance, OH (PRWEB) March 08, 2013
Montrose Ford-Lincoln in Alliance has been named a winner of the Ford Motor Company's President's Award, an honor acknowledging superior customer service in all aspects of its dealership operations. The Alliance, Ohio dealership, a member of the regional Montrose Auto Group, was recognized with the award for both its Ford and Lincoln sales and service operations.
"We're proud to be recognized for this honor," stated John Chapman, General Manager at Montrose Ford-Lincoln. "But we know that in order to maintain the confidence of our Montrose Ford-Lincoln customers, we need to continue to commit to the highest standards of customer service each and every day. Winning this award simply reinforces that philosophy throughout our dealership."
According to the Ford Motor Company, the President's Award recipients must "exceed customer expectations every day in every department. This prestigious award salutes those top-performing Ford and Lincoln Dealerships achieving among the highest levels of customer satisfaction – in both sales and service – in automotive retailing."
"This is a prestigious accomplishment and we are elated to have the honor of being acknowledged for the President's Award," noted Michael W. Thompson, CEO & President of the Montrose Auto Group. "It gives me great pleasure knowing that what we believe in as a company from a customer satisfaction standpoint is recognized by our sales and service clients."
Montrose Ford-Lincoln is a member of the Montrose Auto Group, featuring twelve new car brands at twelve locations throughout Northeast Ohio and Western Pennsylvania. An active participant within the Alliance community, Montrose Ford-Lincoln is proud to partner with the Ford Drive One 4UR Schools program benefitting area high schools, the Alliance Salvation Army, and the Alliance Chamber of Commerce.
###
About the Montrose Auto Group
The mission of the Montrose Auto Group is to provide unparalleled customer service through our professional and courteous sales and service associates at each of our 12 area locations.
Our exclusive Montrose Advantage on every new and pre-owned vehicle ensures your complete satisfaction and includes features designed to maximize your ownership experience. Remember, "You've Got a Friend at Montrose!"