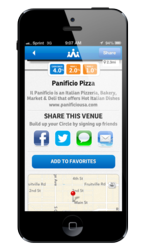 We provide a unique solution for local merchants to drive new business and reward consumer loyalty.
Sarasota, FL (PRWEB) March 07, 2013
Advershares announced the initial launch of their mobile social commerce platform to sororities and fraternities at the University of Central Florida. Local merchants surrounding the UCF campus are joining the Advershares network to increase local sales within the college market in Orlando. The initial launch is strategically focused on sorority and fraternity chapters as they already have strong social connections between them and are quickly realizing the benefits of working with Advershares.
Advershares is a social shopping platform that links merchants with consumers and their friends. When consumers buy they get a discount and their friends also earn a referral fee. Advershares allows local merchants to select a rebate amount that gets distributed as cash back to the consumer and their friends who referred them into the network using a proprietary technology platform. The incentive to share and refer businesses is a core component of the Advershares platform. Consumers can find local deals and easily share with friends using Advershares' mobile app, which can be downloaded directly from the Apple iTunes App Store.
"Our network is attractive to a wide cross section of consumers but particularly to college students," commented Jeff Birnbach, President & COO of Advershares. "They are already strong users of mobile devices and a variety of sharing platforms. Our system let's them save money when they shop as well as generate additional income for their fraternity and sorority houses."
"We provide a unique solution for local merchants to drive new business and reward consumer loyalty. Consumers can benefit not only from receiving loyalty discounts, but also by earning cash back when they refer their friends. We recognize that sharing with friends on mobile devices is second nature to college students; now we give them a way to actually earn money from sharing," noted Vicki LeMay, Director of Business Development at Advershares.
About Advershares - Headquartered in Sarasota, FL Advershares is an early-stage technology company formed in 2011. The Advershares social commerce platform is a patent-pending system that helps local merchants drive more business and reward customer loyalty by offering discounts and cash back for referrals.