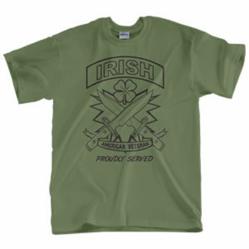 In honor of St Patrick's Day, Medals of America announces limited edition t-shirt exclusive.
Greenville, SC (PRWEB) March 07, 2013
Medals of America recently announced that they will be starting a project to expand their premises to accommodate for a much larger inventory. The expansion is in progress, and Medals of America is already beginning to add a massive variety of products to their inventory. In addition and in honor of St Patrick's Day, http://www.medalsofamerica.com/ recently added a special edition shirt in honor of Irish American veterans. The shirt will be available for a limited time, but there are hundred of other T-shirts that will make the perfect gift for any veteran. Get this exclusive item at http://www.medalsofamerica.com/Item--i-T1023_STYLE
Medals of America has been veteran owned and operated for over thirty six years and is considered the #1 source for military medals, ribbons, challenge coins, dog tags and more.. The perfect gift for any veteran can always be found at Medals of America. One of their most popular services is their custom shadow box and display builder. Anyone can design and customize a beautiful display for their military medals and awards. Many customers of Medals of America have designed displays in honor of a veteran in their family.
It is the personal goal of Medals of America to serve the veterans of the United States Armed Forces by promoting awareness, and showing gratitude to the brave men and women who have fought for our country. Medals of America offers a massive variety of products and services that make the perfect gifts to any veteran. They also maintain a blog that offers current information on military medals and awards, as well as other interesting military news. Many veterans are not aware that they have earned medals for their actions in service of the United States, and that the medals were simply never presented to them. Medals of America remedies this by providing information on all United States Military Medals and what requirements are associated with each award.
About Medals of America
Medals of America, is your premier source for Military Dog Tags, Medals, Badges, Military Ribbons, Patches, Rank, Rates and Insignia, as well as Custom Embroidered Clothing. We're also proud to offer our exclusive Rack Builder, Military Medals Builder and Custom Display Case Builder.
Veteran owned and operated for more than 36 years! Our mission is simple - we want every Veteran and Service person to display the Medals our grateful Nation awarded them. Anything we can do to have all the great Americans who served their country in the Military Forces display their award will enrich future generations by these symbols of Duty, Honor and Country.
Medals of America
114 Southchase Boulevard
Fountain Inn, SC 29644
800-308-0849