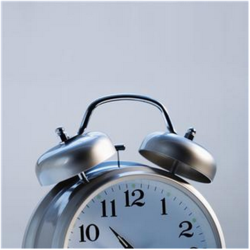 This is a perfect time to think about change, because people already associate the spring season with renewal and transformation.
Orlando, FL (PRWEB) March 07, 2013
Daylight Savings Time starts this weekend, but, according to Change Management Expert Marianne Carlson, it's time to change more than just clocks. Businesses leaders should be making efforts to help their organizations "Spring Forward" too. "This is a perfect time to think about change," says Carlson, "because people already associate the spring season with renewal and transformation." Americans began changing their clocks twice a year since 1918, and, for the past several years, have been encouraged to change the batteries in their smoke detectors at the same time. The association between Daylight Savings Time and other prudent changes is a concept that Carlson wants to instill in others, and expand throughout the business community in particular.
Daylight Savings Time was first adopted as a cost-savings measure during World War I, when changing the clocks saved coal and candles, both of which were in short supply. The practice stopped for several years, but today, nearly everyone in the United States lives under the system. Carlson views the reminders to "Spring Forward" as an opportunity for business leaders to consider changes that can spring their own organizations forward as well. "In the era of continual change, it's essential," says Carlson, "to take some time to consider how the business environment has changed and how the organization should change in order to remain relevant. Springtime – the beginning of Daylight Savings Time - is a perfect time to do that."
Implementing a specific time in the calendar to contemplate changes is a strategy that isn't new, but it can provide real benefit – especially in today's fast-changing environment. Using the changing clocks as a reminder to also change processes, goals and personnel can be very effective. In her book, Winning the Future: Successful Leadership in the Era of Change, Carlson explains that leaders can use 'spring forward' as a time to contemplate changes for the future, and 'fall back' as a time to reflect on how those changes have affected the organization, and whether they should be revised. Leaders who implement this "spring forward" strategy will be committing to a semi-annual review of their situation, and they'll have the built-in reminder that it's time to make those changes.
About Marianna Carlson:
Marianne is a leader in helping businesses and professionals strategically plan and implement change and transcend difficult corporate transitions. She is the author of Ten-Fold Marketing: Growing Your Business by Growing Your Heart, and is also an accomplished speaker and corporate trainer. When change presents problems, Marianne presents solutions. Find out more at http://emcie.com/mariannecarlson/.