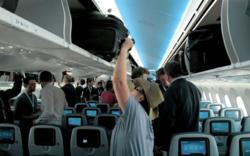 the overall rudeness of both passengers and the airline employees towards one and other outweighs the inconvenience of leg room and bag fees
Fremont, California (PRWEB) March 07, 2013
A lot of components can go into a passenger complaint, whether its bad customer service, flight delays or the airline has peanuts and the passenger has an allergy to peanuts. Some airlines have even gone the length to eliminate peanuts as on board snack options. Flying today just doesn't harness the glamour it once had in the late 1960s throughout the 1970s and 80s. It's become an inconvenience for many weary travelers.
Business class travel booking site and travel experts, Lets Fly Cheaper wanted to know the biggest gripes among passengers who frequently fly economy class. "The results were staggering on the amount of complaints we heard, everything from having a snoring seatmate to the more popular annoyances such as flight delays. People really hate flying in coach these days" says Lets Fly Cheaper CEO, Ramon van Meer. He also adds that many of the complaints are geared towards other passengers. One big complaint Lets Fly Cheaper found was how passengers conduct themselves during the pre-boarding phase of a flight. "We saw a lot of people upset that some passengers attempt to cheat their way to the front of the line or with carry luggage" says van Meer.
Wendy Miller, a software sales executive, flies over 100 times a year. Her company flies her in business class on overseas flights and in economy for domestic flights. Miller has seen her share of disgruntled passengers. "I'd have to say the overall rudeness of both passengers and the airline employees towards one and other outweighs the inconvenience of leg room and bag fees. It's rare that I ever board a flight with happy people" says Miller.
Van Meer ads that he believes the thought of being confined in one space for a long period of time might have an effect on how some passengers conduct themselves. "When you know you're going to be isolated in an airplane for a period of time and top that with everything you had to go through up until that point, tempers and patience may slightly begin to flare. Some passengers just feel they are entitled to behave in a rude manner." he says.
As airlines begin to increase their seat capacity which ultimately decreases legroom and the addition of new fees, those tempers are unlikely to subside anytime soon.
The list of the five top complaints and annoyances is listed below and was obtained through a series of travel website forum postings and polls conducted by Lets Fly Cheaper.
1. Passenger and Airline employee rudeness
2. Delays longer than the actual flight itself
3. Uncomfortable seats and less legroom
4. Passenger disregard for carry on stowage rules
5. Passengers reclining their seats
6. Small regional aircraft
Lets Fly Cheaper.com is a low fare specialist, focused on supplying cheap business class flights to international destinations worldwide. To book the lowest fare contact one of their travel agents at 1-800-240-0461 or go to http://www.letsflycheaper.com
Sean Delanty, Director of Marketing
Lets Fly Cheaper
800-240-0461
http://www.letsflycheaper.com