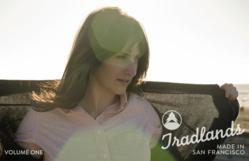 I am making clothing for women, like myself, who want well-crafted goods for their closet. It's not a trend or fad. Just simple, refined pieces that fit perfectly and feel great.

Sadie Beaudet, Co-owner and Head Designer at TRADLANDS
San Francisco (PRWEB) March 07, 2013
Tradlands, a women's clothing company based out of San Francisco, aims to make the best clothing for their customer – the woman who drifts towards the men's department and thinks, "Why don't they make this for me?" Tradlands has replied to this question with a solution. Their debut line focuses on menswear staples and textiles designed by and constructed for a woman, including button down shirts for women.
Partners Sadie Beaudet and Jeremy Roberts created Tradlands in 2012. Before meeting in San Francisco, Sadie lived in Rhode Island and Jeremy in Iowa. They bring with them a love and respect for the Americana tradition and a vested interest in the American-made renaissance. Their goods are designed and made in San Francisco with textiles and trims sourced from the US. "There is a great energy in San Francisco to own well-made, handcrafted products that withstand trends. We are making a contribution to the American-made, and more specifically SF-made, movement with our shirts for women," says Sadie. "And I wanted to make impeccable women's clothing."
The brand finds its root in San Francisco where the clothing is designed and sewn. To pay homage their home, each piece is named after a place in San Francisco, including the heavyweight "EMB" denim shirt jacket and the tartan "Western Addition" button-up. Plaid and flannel shirts for women are also part of their first line.
The introductory line, titled "Volume One", features made to last fabrics and patterns conventionally reserved for menswear. Button-ups and shirt jackets are constructed with hardwearing textiles like raw denim, fine cotton plaid, and slubbed chambray with details including brass snaps and side gussets to ensure that the pieces can be enjoyed for many years. At the same time the fit of their goods are undoubtedly feminine. These are plaid shirts for women so the fit is one that is flattering yet comfortable.
The intention is simple – to make the best clothing for their customer. From the adventurer to the girl about town, Tradlands creates wardrobe staples for women that can be worn today and loved for years to come. Sadie adds, "I am making clothing for women, like myself, who want well-crafted goods for their closet. It's not a trend or fad. Just simple, refined pieces that fit perfectly and feel great."
Each style is made in small batch production. When those run out, they find new materials and make more. In turn, each piece becomes a limited edition. Sadie continues that it allows them to really zero in on what their customers want. "We are focused on women's shirts. People often ask when and if we will make clothing for men. I see many companies making womenswear as a side note to their menswear line. If we make a striped shirt, it is inspired by menswear, but it will certainly be a women's striped shirt in the fit. The heart of our story is making great essentials for women."
Tradlands launched their online shop on February 5, 2013. They currently offer button up shirts, shirt jackets, and t-shirts for women. Their second run of shirts will feature lightweight denim shirt's for women and madras prints. And this fall Tradlands plans to introduce a quilted vest, barn jacket, henley, and an oxford shirt. They will continue to make women's plaid shirts and denim shirt's as staples in their line.
For press inquiries, please contact Sadie and Jeremy at info(at)tradlands(dot)com or 415-787-2330
Please visit their website at http://tradlands.com