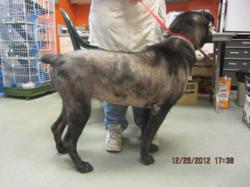 C.Dorney, WAGS Adoption Coordinator says "Gracie has been given a second chance at life and we all have been working very hard here at WAGS to make that happen for her."
Westminster Ca (PRWEB) March 07, 2013
Gracie was brought into WAGS Pet Adoption http://www.wagspetadoption.org by Westminster Animal Control officers as part of a neglect case. She had been left in her backyard, uncared for, for a few months.
She was missing most of her hair and was severely infested with fleas. Within three months of loving care Gracie has gone from timid and shy due to little human contact to trusting and full of life. Gracie has blossomed in her time here not only in personality, but a new coat of hair.
C.Dorney, WAGS Adoption Coordinator says, "Gracie has been given a second chance at life and we all have been working very hard here at WAGS to make that happen for her." She continues, "If you, or anyone you know is looking for an affectionate family dog who just wants someone to love...look no further than our Gracie."
Gracie is almost completely coated and loves noting more than to jump up for a hug and give kisses. She has been spoiled rotten here and is a staff favorite. She is great with people of all ages, other dogs and cats on occasion. She loves to go on walks and is 98% housebroken. She has a few quirks due to her previous situation and will need a home that will work on those with her. Come to WAGS Pet Adoption to meet her.
Dr. Greenberg, founder welcomes all to visit WAGS Pet Adoption http://wagspetadoption.org 12-5pm Tuesday- Sunday. Come visit WAGS today to bring home your next pet.
WAGS Pet Adoption is located in Westminster, CA. WAGS is a 501c3 non-profit with a mission to provide the best quality of care, advocacy and shelter for lost and homeless animals seeking new permanent loving homes. Our core values are: low euthanasia rates, permanent placement, advocacy, safe shelter, respected volunteers and continuous improvement to all services provided. WAGS has few employees and handful of excellent volunteers. Over 200 homeless animals are cared for monthly.
WAGS strives to be not only an animal adoption service but a community resource for the people of Westminster and surrounding communities. WAGS Pet Adoption is the winner of the City of Westminster's Organization of the year 2012.
Visit http://wagspetadoption.org or call 714-887-6156 ask to speak with Cortney
WAGS animals are S.A.V.E.D.® by you- Sponsor-Adopt-Volunteer-Educate-Donate®