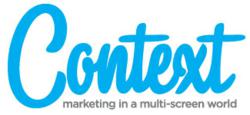 Chicago, IL (PRWEB) March 07, 2013
It will be a veritable who's who of Big Brand marketers at Chicago's Context Conference (June 11-13, 2013) as the roster of A-List speakers continues to grow:

Jonathan Mildenhall, VP of Global Advertising Strategy, The Coca-Cola Co.
Michael Donnelly, SVP and Head of Global Digital Marketing, MasterCard
Mike Boush, Head of Digital and VP of E-Business, Discover Financial Services
Dan Vinh, VP of Global Marketing, Renaissance Hotels, Marriott Corp.
Dennis Maloney, VP of Multimedia Marketing, Domino's Pizza
Michele Edelman, VP, Direct to Consumer Marketing, Warner Bros.
Gagan Kiljia, SVP of Digital Bank Innovation, Capital One
Richard Char, Managing Director, Head of Global Digital Networks and Retail, Citi
Victor Lee, VP, Digital Marketing, Hasbro
Jonathan Stephen, Head of Mobile, JetBlue
Tom Weisend, VP of User Experience at Rue La La
Tim Reis, Head of Mobile & Social Platforms (Americas), Google
Dounia Turrill, SVP of Client Insights, Nielsen
Gian Fulgoni, Executive Chairman and Co-Founder, comScore
Kathryn Freidrich, Head of Video Strategy, Americas, Google & YouTube
Robert Scoble (author and tech blogger/evangelist)
Brian Solis (author, Engage! and The End of Business as Usual)
Elissa Moses, EVP, Neuromarketing and Emotion, IPSOS
Shel Israel (author and writer, Forbes)
Louis Cohen, SVP of Search and Affiliate Marketing, Citi
Joe Pulizzi, Founder, Content Marketing Institute
Dirk Shaw, SVP, Social, Ogilvy
Kyle Barber, SVP, Global Performance Lead, McCann
Jeff Sellinger, Founder and Chief Product Officer, Shopkick
Dave Kaplan, VP, Bravo Media Research, NBCUniversal
Stephen Powers, VP and Research Director at Forrester
Ronald Rogowski, VP and Principal Analyst at Forrester
Neela Sakaria, Executive VP at Latitude
Don Scheibenreif, Research VP at Gartner, Inc.
They're meeting to discuss the power of contextual marketing. To satisfy the 21st century omni-channel consumer, savvy marketers are breaking free of device- and channel-centric silos. Topics to be covered include:
Multi-Screen Mind: Advances in behavioral modeling, buyer personas and predictive analytics are revealing new multi-screen habits to marketers. Throughout the conference, Context shows attendees how to reach and engage consumers across devices, channels and platforms.
Mobile Integration: Mobile monetization is big, but it's diverting attention from a hidden truth. In Context's Mobile & Multi-Screen Metrics track, attendees discover how to effectively meld their mobile campaigns with targeted multi-channel marketing strategies.
Context Driving Choice: Modern consumers take a multi-device path to purchase – a path that can change according to the time of day and convenience of a screen. In the Contextual Content Marketing track, speakers explore the most lucrative ways to reach those consumers.
Social Media Insights: Emerging sensing and analytics technologies are providing extraordinary insight into the lives of customers and prospects. Context's Audience Mapping track is a hands-on introduction to graphs and mapping tools, including advances in Data Management Platform.
Whatever the approach, the end benefit of contextual marketing is always the same. Satisfy the needs of the customer and the rest will follow.
As will conference attendees. Packed with inspirational keynotes, extensive networking opportunities, live demos and interactive sessions, Context Conference Chicago has become the hottest ticket on this year's marketing calendar.
SUPER EARLY BIRD DISCOUNT
Register before April 19 for Context Conference in Chicago, IL (June 11-13, 2013) and save up to $600 off the full price.
View the full agenda and see all the in-depth sessions available.
About Context Conference
Context Conference brings together senior-level brand marketers and advertisers looking for new ways to engage today's multi-screening consumer. Attend and learn how some of the world's biggest and most forward-thinking brands are merging data science and creativity to deliver rich and relevant cross-screen customer experiences.
About Rising Media
Rising Media is a global events producer excelling in Internet and technology-related conferences and exhibitions. Rising Media-produced events include Data Driven Business Week, eMetrics Summit, Context Conference, Conversion Conference, DemandCon, GAUGE, Predictive Analytics World, Text Analytics World, Affiliate Management Days, Building Business Capability, Social Media Economy Days, Web Effectiveness Conference, Search Marketing Expo, SemTech and Social Gaming Summit in the US, Canada, UK, France, Germany, Sweden, Finland and Australia.