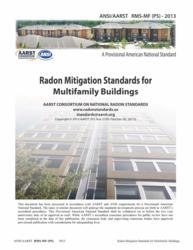 AARST Radon Multifamily Mitigation Standards Comment Period Ends March 18, 2013
Fletcher, North Carolina (PRWEB) March 07, 2013
The AARST Consortium on National Radon Standards notes that public review for a new American National Standard, ANSI/AARST RMS-MF-201x, Radon Mitigation Standards for Multifamily Buildings, is open and the organization is seeking comments by March 18, 2013 on this new standard, which can be downloaded for review purposes at http://www.radonstandards.us
In order to meet a pressing need for mitigating multifamily buildings, the American Association of Radon Scientists and Technologists recently released a provisional standard identical to the document currently being noticed.
Gary Hodgden, Chair of the Consortium's Executive Stakeholders Committee, said the proposed radon standard is undergoing an consensus development process following AARST's accredited procedures and is working towards publication within two years as an American National Standard (ANS.)
AARST Executive Director Peter Hendrick believes that testing and mitigating multifamily housing will reduce not only health risks but will reduce financial risks to apartment managers, developers, and the entire housing sector concerned about building homes with long term radioactive problems.
"This is both a health risk issue and a risk management issue for stakeholders and managers in this housing sector," Hendrick said.
AARST estimates that over 8 million American homes and 70,000 classrooms have high levels of radon in them.
The American Association of Radon Scientists and Technologists (AARST), is an ANSI accredited standards writing organization and has previously published an American National Standard for multifamily measurement: "The ANSI-AARST Protocol for Conducting Radon and Radon Decay Product Measurements in Multifamily Buildings."
Both AARST Standards are currently available online at the AARST Bookstore.