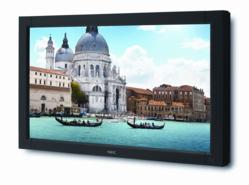 Our new V 32 is a cost-effective solution designed for someone new to digital signage.
Austin, Texas (PRWEB) March 08, 2013
TouchSystems is improving its V Series line, a line of cost-effective, large-format touch displays, with a new 32-inch display.
Carol Nordin, president of TouchSystems, says, "We're always conscious of how our products can bring a better return on investment for our customers. Our new V 32 is a cost-effective solution that is best suited for someone using digital signage for the first time. The display's feature set makes that first-time experience more enjoyable and less frustrating and stress-laden."
The V 32, based on NEC's V322, features simple upgrades that make it a better fit in some retail and restaurant markets. The mechanical design has been improved, resulting in a slimmer depth. The display features built-in rather than rear-mounted speakers. It also offers expanded connectivity through digital loop-through and DisplayPort. Finally, it boasts an Open Pluggable Specification slot, which offers seamless integration with NEC accessories and third-party components. The display is integrated with Dispersive Signal Technology (DST).
TouchSystems was established in 1996. The company is a pioneer in the touch technology industry. TouchSystems works with its customers to create innovative touch solutions, such as desktop touch monitors, interactive digital signage, all-in-one systems, kiosks, and industrial controls and peripherals. TouchSystems is based in Hutto, Texas and is a certified woman- and minority-owned small business.