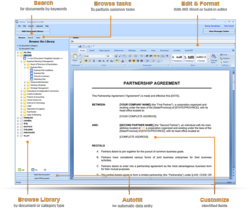 That's when it struck us: document templates! Indeed why reinvent the wheel when a professional template can be customized to one's liking.
Montreal, Quebec (PRWEB) March 07, 2013
Biztree is proud to announce the release of Business-in-a-Box 2013, the world's most popular document templates software used by over 6 million people worldwide.
In 2001, at the ages of 23 and 24 respectively, Biztree founders Bruno Goulet and Jonathan Defoy launched the original Business-in-a-Box. Working for Bruno's uncle's software company, they had little time to waste on writing wordy contracts and business documents. They quickly acquired legal documents from law firms and consultants, and built what is now the world's best-selling business and legal forms software.
"In every business venture we started, we never got over the pain of writing documents," explains Co-Founder Bruno Goulet. "If only there was a quick and painless way to get all these documents written…" he recalls.
The Business-in-a-Box creators soon realized that the pain of writing business documents was not unique to their situation or due to their lack of resources at the time. Surveying their peers, they quickly realized the pain was universal, shared by just about every business owner.
"That's when it struck us: document templates!" exclaims Defoy. Indeed why reinvent the wheel when a professional template can be used and customized to one's liking.
"We took out loans, got seed funding from friends and family and put it all on the line. Our goal was to help entrepreneurs and business people start, run and grow their business by providing them all the document templates they would ever need, in one easy-to-use software."
Fast forward 12 years later and Business-in-a-Box is now sold in over 200 countries and translated into 7 languages. For about the cost of consulting with a lawyer for one hour, business people can enjoy over 1,800 professionally written business and legal templates.
Offered for both PC and Mac, Business-in-a-Box—available at http://www.biztree.com—is also distributed by some of the world's leadings brands such as HP, IBM, Lenovo and Vistaprint. Each new version comes with new templates and added features such as the new business plans found in Business-in-a-Box 2013.
"We wanted Business-in-a-Box to become the ''QuickBooks'' or ''Simply Accounting'' of document templates for small and medium sized businesses worldwide. We've reached that goal but we're not stopping there," says Bruno hinting at a new "re-invented Business-in-a-Box" which is being designed to provide even greater value to the business world.
About Biztree
Founded in 2001, Biztree develops and markets productivity software for small and medium-sized businesses and home-office entrepreneurs. Biztree's mission is to empower business people from around the world to reach their full potential. Biztree is known for its capacity to assist customers in becoming more competitive, in a world where businesses transact at an unprecedented speed.
Through a unique product development process, passionate and dedicated employees, and excellent relationship with its customers, the company delivers high quality yet affordable products.
Biztree is a privately-owned company headquartered in Montreal. The company also has offices in New York, London and France.
Contact:
Marc Berouti / Marketing Director
Biztree Inc.
http://www.biztree.com
555 Rene-Levesque West, Suite 1450
Montreal, QC H2Z 1B1
Canada
1.514.768.3311 ext. 221
1.866.999.3311 ext. 221
###