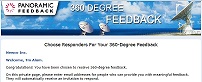 Administrators need no longer face the daunting task of managing thousands of responder email addresses
Toronto, ON (PRWEB) March 08, 2013
Panoramic Feedback, the global leader in online 360-degree feedback, has released new features designed to reduce the workload of its users.
"Our aim is to relieve the pressure on administrators who manage large feedback projects," said CEO Esther Kohn-Bentley. "They're busy people, responsible for a sensitive and important process, and they've told us they appreciate our efforts to simplify their work."
SELECTING RESPONDERS
The Panoramic Feedback responder portal is one of the new features. "It's an option that means administrators need no longer face the daunting task of managing thousands of responder email addresses," explains Esther Kohn-Bentley.
The portal shifts the responsibility for entering email addresses for responders from the administrator to the people being assessed. The system automatically sends these responders an invitation to provide feedback.
Because administrators need to check the progress in choosing responders, Panoramic Feedback built a new report that flags individuals who are slow to act.
Developers also added a tool that makes it easy for the individuals to fix any incorrect addresses they entered. "This frees our administrators from having to correct other people's mistakes," said Esther Kohn-Bentley. "As we expected, they're telling us that they're very pleased."
AUTOMATIC REPORT DELIVERY
Another optional feature from Panoramic Feedback delivers feedback reports automatically to the people being assessed. "While the ideal may be to deliver them through a coach or supervisor, this option is valuable for those organizations that prefer to provide them direct to the individual," said Esther Kohn-Bentley.
"Previously, administrators had to generate the reports, then deliver each one to the individual concerned," she said. "Now they simply tell our system when they want the reports delivered, and it emails them out on that date. It's automatic, easy, and efficient."
GET MORE INFORMATION
For more data about these and other features, visit http://www.panoramicfeedback.com/products/360/newfeatures.html