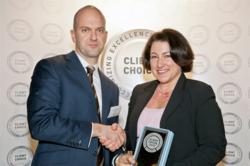 "Always helpful and insightful, Ms. Perini-Hegarty goes well beyond what is expected in order to consistently provide sound advice."
Boston, MA (PRWEB) March 08, 2013
Stephanie Perini-Hegarty, President & Managing Attorney of Perini-Hegarty & Associates, P.C., has received the 2013 International Law Office (ILO) "Client Choice Award" for Trade & Customs. Attorney Perini-Hegarty accepted the award at a ceremonial dinner in London, England on February 27, 2013.
The list of winners is available in the Client Choice Guide – USA and Canada 2013 and http://www.ClientChoiceAwards.com.
The ILO is a global organization that connects corporate counsel with the world's pre-eminent law firms. The 2013 ILO "Client Choice Award" winners were nominated by senior corporate counsel from around the world and selected for inclusion based on more than 2,000 individual client assessments. The honorees were recognized for their exceptional level of client care and quality of service. According to ILO, these attorneys have "an ability to add real value to a client's business above and beyond the other players in the market."
Ms. Perini-Hegarty focuses her practice on international commercial transactions and trade law. In addition to advising clients on international matters such as trade and data privacy, Ms. Perini-Hegarty drafts and negotiates import/export agreements related to export controls, customs, and trade remedies, financial services agreements in connection with stock plan and 401(k) benefits administration, prime broker and custody transactions, and licensing agreements for market data, technology and intellectual property. For over 16 years, Ms. Perini-Hegarty has counseled a wide spectrum of multi-national companies based both in and outside the United States. She has experience assisting clients in every context in which an international or domestic business law issue may arise and has successfully negotiated a wide variety of complex transactions in these areas. In addition, the firm also provides full residential and commercial real estate legal services.
Ms. Perini-Hegarty is a graduate of Regis College, and she received her J.D. from UMASS Law Dartmouth.
For more information about the 2013 ILO "Client Choice Awards" visit http://www.internationallawoffice.com/Awards.
For more information about Perini-Hegarty & Associates, P.C. visit http://www.perinihegartypc.com.