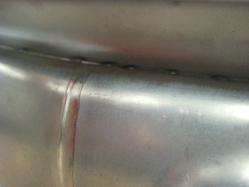 This new approval allows us to be able to serve our aerospace customers in a much more comprehensive set of services minimizing the need to utilize multiple vendors
Agawam, Ma. (PRWEB) March 11, 2013
EBTEC Corporation announced recently that it has been approved by General Electric Aircraft Engines for TIG welding per Specification P8TF3 – CF01. EBTEC joins an elite sector of the Aerospace Industry's suppliers that offer these services to GE and to GE sub-tier suppliers for this process.
"This new approval allows us to be able to serve our aerospace customers in a much more comprehensive set of services minimizing the need to utilize multiple vendors," said Mark Hauser, Vice President of Sales and Marketing. EBTEC has been providing special processes to GEAE since its inception with electron beam welding service to P8TF10, P8TF5 as well as laser cutting and laser drilling services to P17TF2, S-422, and S-505 among a host of others. EBTEC also holds certifications to GE airflow requirements and holds the Quality Systems requirement approval to S-1000.
About EBTEC
Founded 50 years ago on the near-limitless potential of Electron Beam Welding, EBTEC has more than 50 years of experience executing precision high energy beam processes, including Electron Beam Welding, Laser Welding, Laser Cutting, Laser Drilling, EDM, Vacuum Heat Treating, and Waterjet Cutting, as well as traditional fabrication solutions. Utilizing the most advanced technologies and processes, EBTEC provides cost-effective services to some of the largest companies in the Aerospace, Medical, Power Generation, Defense, and Industrial industries.
EBTEC's extensive array of equipment, coupled with our engineering, metallurgy, quality assurance, program management, and in-house finishing capabilities, allows them to handle virtually any size and scale of program, with high energy beam services and comprehensive precision fabrication. Focused on precision, innovation, and on-time delivery, EBTEC provides complete solutions.