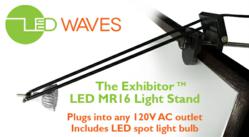 Each Exhibitor spot light fixture comes with an LED MR16 made by LED Waves in Brooklyn.
Brooklyn, New York (PRWEB) March 07, 2013
LED Waves has rolled out a brand new portable LED spot lighting fixture. Perfect for displays on the go, the Exhibitor LED Light Stand clamps onto any wall up to 6 inches deep and can be easily removed without damaging the surface.
The Exhibitor LED Light Stand came about through LED Waves' own experience with trade shows. The company is frequently approached by fellow exhibitors in need of travel-friendly lighting solutions. Easy installation is a major priority, since these displays may be set up and broken down by event staff of varying skill levels. Since the Exhibitor LED Light has a plug-in AC adapter, it can be used anywhere with a standard outlet.
Once it's set in place, the Exhibitor LED Light Stand features a wide range of motion. The low voltage GU5.3 lamp holder can pivot the LED bulb in a 150 degree rotation. This lamp holder is attached to a stand that is extendable from 14 to 24 inches long. This versatility allows users to cast beams of light wherever it is desired – particularly important for exhibitors whose showcase selections may change from one trade show to another.
Each Exhibitor light fixture comes with the LA2.0: an LED MR16 made exclusively by LED Waves in their Brooklyn headquarters. The 12v bulb is a <5 Watt replacement for a 35W halogen spot light. Each MR16 contains an array of four Cree XB-D LEDs. Noted for high efficacy and superior color-mixing, these chips make the LA2.0 a perfect companion for the Exhibitor LED fixture as well as any other low volt system that requires commercial-quality bright light. Users may specify their bulbs in either warm (3000K) or neutral (4000K) color temperatures, and tight (17 degrees) or flood (37 degrees) beam angles.
The Exhibitor LED light stand is one of many plug-and-play lamps offered by LED Waves. An Original Equipment Manufacturer, the small company specializes in replacement LED bulbs for the home, as well as retrofit luminaires designed for commercial and industrial installations.