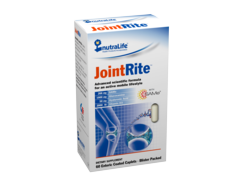 Lakewood,NJ (PRWEB) March 12, 2013
Nutralife Health Products has been a leader in providing innovative low cost/high quality nutritional supplements since 1996 and recently introduced its breakthrough joint supplement, JointRite. Now NHP is launching its new website, http://www.joint-rite.com to provide consumers with all they need to know about the supplement.
"The website was created with the consumer in mind," stated Ephraim Glass, Director of Marketing at Nutralife Health Products. "We included everything the consumer would want to know about JointRite with a fresh design and easy to navigate pages." The website includes information regarding the scientifically researched ingredients in JointRite, special offers and news regarding JointRite, and information about where JointRite can be purchased. Customers who have any further questions about the product will be able to send a message to the NHP customer support team directly through the website.
"We are happy to have the opportunity to provide consumers with the scientific information about JointRite," says Sarah Levi, VP of Research and Development at Nutralife Health Products, "there are many joint products out there and we want our customers to be confident that they are taking a supplement with strong scientific backing. Each ingredient was carefully selected based on scientific research to target a different part of the joint. By helping to rejuvenate the joint, maintaining cartilage health, enhancing joint lubrication, and promoting overall joint comfort, Joint Rite is a unique and powerful product, and we want our customers to know it too."
Consumers interested in finding out more about JointRite, can visit http://www.joint-rite.com and of course always contact the customer service team at Nutralife Health Products, at 877-688-6254.
About NutraLife™ Health Products:
NutraLife™ Health Products (NHP), a women-owned business, was founded in 1996 by two women with one goal: to provide health-conscious individuals with natural, safe, and clinically-proven dietary supplements. NHP features a complete line of vitamins and supplements under the NutraLife™ brand. NutraLife™ SAMe products are among the leading selling SAMe SKU's in the nutritional supplement category according to IRI, and can be found at prominent retailers such as Walgreens and CVS.
http://www.nutralife.com
Nutralife Health Products
877-688-7254/732-942-9339