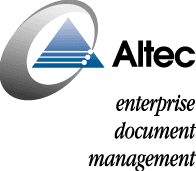 Laguna Hills, California (PRWEB) March 07, 2013
Altec Products, Inc., a leader in enterprise document management and workflow solutions, announced today their sponsorship and participation at two Sage customer events in San Francisco and Seattle. These complimentary educational sessions will offer Sage customers important product news, insight on cloud and mobility strategy, and a technology roadmap to maximize their software investment.
The events run from 8:00 a.m. – 4:15 p.m. and contain a full line-up of content-rich sessions presented by Sage executives and select ISV's and Development Partners, each with a proven track record of integrating their solution with Sage ERP products. Business and finance leaders at companies running a Sage solution will hear from endorsed ISV's like Altec, the expert in the design and delivery of electronic document solutions ranging from simple document intensive processes to complex restructuring of internal data processing. Altec will present Sage ERP Document Management during the Partner Showcase and lunch from 12:30 p.m. – 1:30 p.m.
Brandt Morrell, President and COO of Altec states, "Our presence as the forerunner of Sage integrated document management helps businesses work smarter as they allow technology to solve their business process challenges. We are thrilled to be a part of these Sage customer symposiums."
Trish Gardner, Sales Director for Altec will demonstrate how Sage ERP Document Management helps companies go paperless to work leaner, faster and more effectively in their accounting and business processes. This solution provides seamless capabilities to electronically capture documents and automate business processes within any department and any process. Combining best practices, state-of-the-art technology, and sound implementation methods are key ingredients in this affordable Sage solution.
Gardner states, "We look forward to joining the Sage community in a collaboration of interactive communication, networking and the release of new product strategy. As a business partner, we are driven to help Sage customers discover new possibilities to work leaner, faster and more effectively by going paperless and automating their unique workflow processes."
Advanced registration is advised to hold a spot. Walk in registrations are allowed on a first come first serve basis due to limited seating availability.
Registration for San Francisco:
Tuesday, March 12
Registration for Seattle:
Thursday, March 14
About Altec
Altec is a leading provider of Integrated Document Management (IDM) solutions to mid-market companies. For more than 25 years, Altec has provided a wide range of accounting-centric paper to paperless solutions including its flagship product, doc-link™, which enables companies to capture, archive, workflow and route structured and unstructured documents to customers, employees and vendors. Altec's comprehensive solutions include IDM, output management, MICR check disbursement and paper documents that serve more than 13,000 customers worldwide. Altec enjoys strong, collaborative partnerships with ERP solution providers like Sage to provide the most comprehensive, integrated enterprise document management solution. Altec delivers its IDM solutions through a global network of authorized partners in more than 60 countries throughout the Americas, EMEA and Asia Pacific. For more information, visit Altec at the company website at http://www.altec-inc.com. Follow them on Twitter.com/doclinkbyAltec or call April Blankenship at 1-800-997-9921.