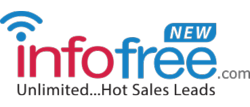 San Mateo, CA (PRWEB) March 07, 2013
infofree.com, the home of unlimited sales leads and mailing lists for only $49.95 per month, is excited to announce that its subscribers have saved nearly $180 million and downloaded over 1 billion sales leads since its inception.
For many small businesses, quality sales leads are the key to sales growth. Most lead generation companies charge a minimum of 10 cents per lead, all the way up to 50 cents for just one record. For the unbelievable price of only $49.95 per month, infofree.com offers unlimited access millions of leads, from businesses to consumers, and hundreds of specialty databases.
"Our service is the best value in the industry. By providing unlimited access to our database of 300,000 sales leads, we have saved our customers nearly $180 million that they would have paid to tradition lead generation companies," says infofree.com Founder, Vin Gupta.
To try infofree.com for 1 week for only $1, visit http://www.infofree.com/weektrial or call 877.448.0101 for more information.
About Us: infofree.com™ is revolutionizing the sales lead and mailing list industry by providing unlimited search, select, and view of over 15 million business records, 225 million consumers, and hundreds of other specialty databases for the low, flat price of only $49.95 per month or $449 per year. Reach new homeowners, new movers, newlyweds, new businesses, and more!
The infofree.com content is compatible with the following platforms: Oracle CRM, Salesforce CRM, Microsoft CRM, Nutshell CRM, Goldmine CRM, Sage ACT! CRM, Highrise CRM, Zoho CRM, NetSuite CRM, SAP CRM, Constant Contact, RightNow Technologies, Responsys, Vertical Response, and Dun & Bradstreet.