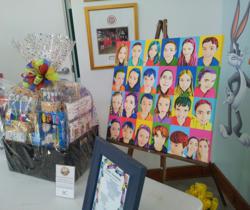 North Miami Beach, FL (PRWEB) March 07, 2013
Paint Your Life, the leading online retailer of personalized canvas art has developed a sponsorship program, in which they partner with local schools and organizations to provide art and other resources.
Recently, the Miami-based retailer has successfully sponsored a number of events in the local area, including a booth in the Alonzo and Tracy Mourning Senior High School fashion show. Other organizations to which Paint Your Life is providing sponsorships include the Friends of the Israel Defense Forces and the University of Georgia Stadium Classic Golf Tournament, taking place from April 29-May 5, 2013. In addition to sponsoring at booth at the Friends of the Israel Defense Forces event, Paint Your Life also designed a logo for the organization. Paint Your Life has also donated a one-of-a-kind pop art print to St Andrews school in Boca Raton.
"We're so happy to be able to work with organizations, both in the local Miami community, and around the country to provide sponsorships and support," said a spokesperson for Paint Your Life. "We've been given this unique opportunity to work with great organizations on a local and national level, and we're proud to provide our support, in a variety of ways."
Paint Your Life is the world's leading provider of personalized canvas art. Products include portrait paintings, canvas photo prints, photos to pop art, unique pet portraits and high-quality, custom oil portraits. The site has earned a reputation as providing high-quality, highly detailed work, produced by incredibly skilled artists and graphic designers. The expert staff at Paint Your Life includes portrait painters, graphic editors, art and production editors and framing experts.
"We're excited about this new chapter in our business," said the company's spokesperson. "We're looking forward to partnering with more organizations to provide our talents and services."
Paint Your Life, after enjoying years of success in the wall art and canvas business, is reaching out to organizations to create sponsorship partnerships. Interested organizations and non-profits who would like to contact Paint Your Life about a sponsorship opportunity are invited to contact the company at 1-860-865-0265 or visit the company's website, PaintYourLife.com, for more information.
About Paint Your Life
Paint Your Life was founded in 2006, and features one of the world's largest selections of canvas and art products. All products are designed by a team of professional graphic designers, and each product is created with the utmost quality and attention to detail. The site, which is a leader in the online art industry, has seen tremendous success because of customer and word-of-mouth referrals, and continues to expand its products to cater to a wide variety of needs.