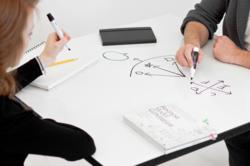 We look for creative ways to support startups and small businesses ...
Austin, TX (PRWEB) March 07, 2013
Business office furniture manufacturer SNAP!office is collaborating cool ideas with Think Tables at South by Southwest (SXSW). Presenting tables you can write on and designed to foster creativity, innovation and collaboration, the tables will be a part of the Free Lunch Friday (FLF) rig, which is sponsored by American Airlines and an active part of the event.
"We look for creative ways to support startups and small businesses, and being part of the Free Lunch Friday rig that will be feeding hungry entrepreneurs at this premier festival is a great opportunity," said SNAP!office President and CEO Adrienne Stevens. "SNAP!office and Think Tables are both creative, innovative companies, so a venue like SXSW is a great fit."
While the tables are a fun new product, SNAP!office also offers complete turnkey solutions that help entrepreneurs set their office up in a snap. The company specializes in supporting small businesses by giving them what they want and need the most: low cost, speed and personalized attention. SNAP!office takes all of the hassle out of buying custom office furniture by eliminating middleman layers and markups. Learn more at snapoffice.com
About SNAP!office:
SNAP!office is the only office furniture manufacturer offering real-time 3D space design, high-quality products and installation capabilities direct to the market. Their highly efficient "Made in the USA" operation ships furniture in 15 business days or less and comes with white glove delivery, a limited lifetime warranty and a satisfaction guarantee. The SNAP!office team has been manufacturing office furniture for more than 20 years. They launched their direct-to-market approach last year. Visit snapoffice.com or email PR(at)snapoffice(dot)com for more information.