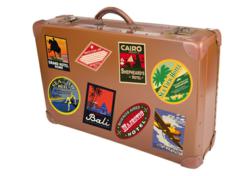 If you plan to drink, arrange enough accommodations for everyone at the same place, or use designated drivers.
(PRWEB) March 07, 2013
March Break means warmer temperatures and a chance to break away from the cabin fever that sets in after the long winter. Those who have travel plans for the week can make certain everything goes smoothly with a few important tips and precautions.
Drive Safe – It's Still Winter
For those whose travel plans include a road trip, it's important to remember that the roads may still be dangerous. Although temperatures are getting warmer, in most parts of Canada March Break still means winter weather is a risk. Those on the road should continue to be prepared for snowy and icy conditions. Keep a winter emergency kit in the car until the risk of winter conditions has passed.
Continue to drive with the extra caution that winter requires. Black ice can still appear on roads in March, so take things slowly especially on highways. Check the road conditions before leaving, and avoid driving in dangerous locations if possible.
Sober Driving Saves Lives
March Break is an opportunity to live it up, and it's not uncommon for parties to take place during this time. Students especially are at an increased risk of drinking and driving. Be sure that a designated driver is always selected for every outing. Parents should take the time to remind young drivers of the high risk of driving under the influence.
Gatherings at vacation destinations can lead to drinking and driving; even when the party is not at home it's important to be aware of others who may be getting behind the wheel inebriated. "If you plan to drink at your March Break destination, arrange enough accommodations for everyone at the same place, or use designated drivers," reminds Tammy Ezer of ComparaSave.com
Travel Insurance Can Save a Trip
A lot of planning goes into a spring getaway for March Break, and the last thing anyone wants is to have it ruined by an emergency. Whether the emergency prevents departure or requires an early return from a trip, it can mean a great financial loss. Travel insurance can help to mitigate that loss by covering the cost of cancelling flights, hotels, and missed events.
Those who plan to travel outside of Canada for March Break should purchase a travel health insurance plan. Medical care in the United States and other countries is very expensive, and Canadian provincial health plans do no extend outside of Canada. Even a simple cross-border trip calls for the purchase of travel health insurance to protect against thousands of dollars in medical bills in case of an emergency.
Travel insurance packages make it easy to get all of the necessary coverage at an affordable price.
About Comparasave.com
ComparaSave.com is a digital marketplace dedicated to helping Canadians save money by providing the lowest insurance and mortgage rates, as well as credit card and holiday comparisons, from a network of over 40 providers. Launched by Insurance Hotline, ComparaSave.com has partnered with insurance companies and brokers, mortgage professionals, credit unions and other financial institutions to ensure consumers get a fast, free and easy-to-use service. ComparaSave.com is a division of Insurance Hotline.