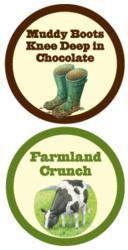 We created Farmland Crunch as a delicious way to spread the word about the importance of preserving agricultural land. Each tasty lick of our new ice cream flavor will help The Connecticut Farmland Trust in its work to save farmland.
Lebanon, CT (PRWEB) March 07, 2013
The Farmer's Cow is a group of six Connecticut dairy farms working together to sell their fresh dairy products. All of the member farms are dedicated to promoting the values provided by local agriculture. As the end of winter approaches on the farms, spring thaws bring on 'Mud Season' followed by spring planting in the fields. This is the perfect time to introduce The Farmer's Cow newest ice cream flavors that are now available in retail stores: Muddy Boots Knee-Deep in Chocolate and Farmland Crunch.
Both new ice cream flavors are locally made from The Farmer's Cow fresh milk and rich cream blended with delicious ingredients. Farmland Crunch goes a step further to support farmland preservation with a portion of the sale of each pint directly benefiting the Connecticut Farmland Trust.
Muddy Boots Knee-Deep in Chocolate is pure decadence. It features The Farmer's Cow "Cow Barn Chocolate" ice cream made even muddier with brownie bits and chocolate chips swirled in a fudge ribbon that is scrumptious to wade through.
Farmland Crunch combines The Farmer's Cow Hay! Hay! Hay! Vanilla mixed with chunks of butter crunch candy, roasted almonds and chocolate chips all wrapped with a caramel swirl. It tastes fantastic! This new flavor tastes even better when folks know that every delicious mouthful helps preserve farmland in Connecticut.
The newest flavors are now available in pints at retail locations throughout Connecticut including Stop & Shop, Whole Foods, independent grocers and The Farmer's Cow Calfé & Creamery in Mansfield, CT.
The Farmer's Cow first introduced ice cream to its fresh local product line in 2010. Every ice cream flavor from The Farmer's Cow is artfully developed and carefully crafted until it is just right.
"We enjoy inventing new ice cream flavors that our customers will love," says Robin Chesmer, managing member of The Farmer's Cow. "We created Farmland Crunch as a delicious way to spread the word about the importance of preserving agricultural land. Farmland has been lost at an alarming rate and really is in a 'crunch' in Connecticut. We hope to draw attention to the need of saving land for the benefit of current and future generations. Each tasty lick of our new ice cream flavor, Farmland Crunch, will help The Connecticut Farmland Trust in its work to save farmland."
"Every year, Connecticut loses more farmland than it is able to save," says Jim Gooch, Executive Director of Connecticut Farmland Trust. "We are so grateful to The Farmer's Cow for all they do to help us in our work. Together, we're making real progress – and that means more and better locally grown food for the future."
Download the Farmland Crunch brochure to learn more about how to be a Farmland Farmhand and help us beat the crunch!
Some facts about the "farmland crunch" in Connecticut:

The crunch is on. At the same time that consumer demand for local food and local farmers markets has increased throughout Connecticut, the amount of available farmland in our state is sharply declining. Of the total 3.5 million acres that make up Connecticut, only about seven percent is actively farmed as pasture and cropland. And without local farms, there's no local food.
A dramatic decline. In 1900, 26,948 farms occupied nearly 75 percent of Connecticut's land area. By 2011, only 4,900 farms remained. Much of the prime agricultural land has disappeared at a rapid rate because it's flat and easy to develop into office parks, parking lots and housing developments—"the last crop."
Not all dirt is created equal. While there may be lots of open land in Connecticut, most of it is not suitable for farming. Only about 28 percent is considered prime agricultural land. Even on working farms, only about 60 percent of land is actively cropped—the balance is typically wetlands, steep slopes, forested, or otherwise unsuitable for growing crops.
Farmland contributes to health and well-being in many ways. Not only is farmland the source for local food, it also provides the beautiful landscapes and scenic vistas that Connecticut is known for. Farmland also affords direct and indirect jobs, supports other local businesses, offers a natural purification system for water supplies and provides habitat for many species of wildlife.
Dairy farms are vital to sustainable agriculture in Connecticut. Dairy farms manage about half of all the active working farmland in Connecticut according the Working Lands Alliance Report in 2005, "A Call to Farms." As stewards of the land, members of The Farmer's Cow have collectively preserved more than 3,000 acres of active farmland through the Connecticut Farmland Preservation Program.
The Connecticut Farmland Trust. CFT works with Connecticut farmers to protect their land by acquiring agricultural conservation easements and farmland. Since 2002, CFT has protected nearly 3,000 acres of farmland on 26 farms around the state and has assisted as partners in the preservation of 789 additional acres. Connecticut's farmland preservation initiatives, coordinated by the state of Connecticut, local municipalities and private organizations like the Connecticut Farmland Trust, help ensure that there will be enough farmland dedicated to support Connecticut's farms for years to come.
For more information on where to purchase Farmland Crunch visit http://www.TheFarmersCow.com , call (866) 355‐COWS, or email farmers(at)thefarmerscow(dot)com.
About The Farmer's Cow
The Farmer's Cow is a group of six Connecticut dairy farms that produces fresh, local milk, half & half, heavy cream and ice cream for Southern New England. The Farmer's Cow dairy products are pasteurized the "traditional way" and are never ultra‐pasteurized. The members of The Farmer's Cow do not use Artificial Growth Hormones (rBST) on any of their cows. They also sell Connecticut‐sourced, all‐natural eggs, apple cider, seasonal beverages and coffee. The Farmer's Cow's mission is to promote Connecticut agriculture and prove to consumers that "Local is Fresh!"