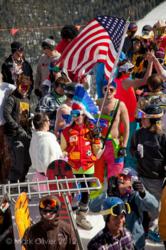 Sun Valley, ID (PRWEB) March 06, 2013
Returning to spring time glory once again is SolFest, the ultimate ski and snowboard weekend of fun in the sun in Sun Valley, Idaho. Starting off with lift ticket specials that offer three days of skiing for $99 all week long for valid and current college ID holders, this is the perfect weekend for college spring breakers to head to one of the best ski towns in America.
The weekend kicks off Friday night from 7-11 pm as the Sun Valley Ski Education Foundation presents the 511 Rail Jam, an urban ski and snowboard contest in the heart of downtown Ketchum with DJ Train lighting up the music.
Saturday brings a unique bit of Sun Valley flavor with "A.P.R.E.S., The Game" a free-to-enter scavenger hunt that, in the spirit of the game "G.N.A.R." mixes costumes with prescribed antics, feats of strength and daring to collect points in order to win prizes from sponsors like Scott and Smith Optics. Awards will be held at the free to attend A.P.R.E.S. party at Apples Bar and Grill at 4:00 pm with special musical guests, "El Stash", playing covers of songs you actually want to hear.
Saturday night beginning at 7:00 pm is the weekend's main event with the FREE, all ages show, SolFest on Main Street, with musical performances by DJ Doc Rock and party band champions, Pool Party. With Main Street shut down and loud pumping music getting the night started what more could there be might you ask? How about Brother Ali playing inside Whiskey Jacques right after? While it is not free and you do have to be 21 to enter, this is a show that is not to missed. For more information on SolFest visit: http://www.visitsunvalley.com/events/solfest-2013
SolFest comes on the heals of the US Revolution Tour in Sun Valley, Idaho March 17-22 where the brightest young stars of freestyle skiing and snowboarding compete. More information can be found at http://www.visitsunvalley.com/events/us-revolution-ski-and-snowboard-tour