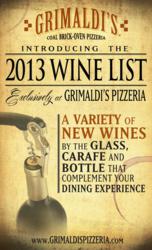 Fort Myers, FL (PRWEB) March 08, 2013
Grimaldi's Pizzeria, famous for its award-winning, hand-tossed, coal-fired brick oven pizzas and calzones, has added a new selection of sparkling, red and white wines to its already extensive wine list.
Ushering in more than fifteen new labels, Grimaldi's Pizzeria will now carry a larger variety of wines from Italy and California. One sparkling wine and five new white wines were added including Girard Sauvignon Blanc and Mer Soleil Silver. More than a dozen reds were also added including Hypothesis Cabernet Sauvignon and Allegrini Baby Amarone. The updated wine list offers an affordable range or wines at prices starting from $4 by the glass, from $15 for carafes and from $20 per bottle.
"The new wine list caters to a broader demographic of wine lovers," said executive chef Cory Lattuca. "Our goal is to have Grimaldi's be the first location people think of when it comes to pairing pizza with with wine."
For more information visit http://www.grimaldispizzeria.com.
About Grimaldi's Pizzeria:
In the world of pizza, Grimaldi's is an institution that has garnered more awards than any other pizzeria in the country with more celebrity sightings than most five-star restaurants. Using only the freshest ingredients, a "secret recipe" pizza sauce, handmade mozzarella cheese and dough, Grimaldi's serves traditional pizza (as it began in Naples, Italy) in an upscale yet casual, family-oriented pizzeria.
Designed and built by hand, the coal-fired oven at Grimaldi's Pizzeria delivers a unique flavor and consistency that is just not possible from wood or gas ovens. Weighing in at 25 tons and heated by 100 pounds of coal per day (cleanest burning fuel available and environmentally tested), the oven heats up to 1,200 degrees. The intense heat of the oven evenly bakes the pies to create Grimaldi's famous crispy and smoky thin crust that Zagat has voted best pizza year after year.
It has been said that the secret to true New York-style pizza is the water. Grimaldi's believes that too, going to great lengths to keep the integrity of the water used in the Brooklyn pizzeria by hiring a chemist to analyze and recreate the mineral content and exact composition of the water to ensure the dough tastes the same in Florida.