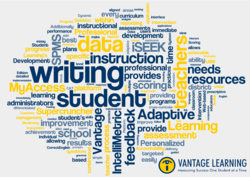 Vantage provides some of the most exciting and interesting knowledge management solutions in the marketplace today.
-Jeff Ross,
e-Assessment Question Conference Director
Yardley, Pa (PRWEB) March 07, 2013
Scott Kramer and Dr. Matthew Schulz, executives at Vantage Labs and its divisions: Vantage Learning and McCann Associates, will present the company's IntelliMetric technology – the gold standard in automated essay scoring at the Assessment Tomorrow Conference to take place in London, England on March 20 and 21, 2013. The event was developed to showcase companies that offer the latest technologies being adopted in the assessment world for education, government and corporate testing.
Used for both low- and high-stakes assessment environments, the most important application of IntelliMetric has been in the area of assessment and instruction. IntelliMetric technology powers Vantage Learning's award-winning MY Access!® and Student Progress Monitoring System® (SPMS) programs, designed to optimize k-12 student and teacher performance by creating instruction that measures, adapts and responds to individual student's capabilities and needs. The tools are aligned with the new US Common Core standards. For higher education, government and professional testing, IntelliMetric powers the company's College Success™ and Measured Success™ assessment and remediation tools delivered through McCann Associates.
"Vantage provides some of the most exciting and interesting knowledge management solutions in the marketplace today. The audience at the e-Assessment Question Conference will include many from the UK and European qualification and awarding arena, and they will be drawn to hearing about such innovative solutions for e-assessment and computer assisted assessment. We very much look forward to hearing how Vantage is meeting the challenge of assessment across boundaries and borders, the particular theme of this year's conference." Jeff Ross, Conference Director.
"As the US technology leader in education and professional assessment, we're looking forward to demonstrating to our European counterparts how artificial technology, in association with linguistics, can be used to develop advanced tools for student and candidate learning and assessment," says Scott Kramer, Vice President of Strategic Accounts for Vantage Labs.
The e-Assessment Question Conference takes place March 20 and 21 in London, England.
###
About Vantage Learning
A recognized leader in online assessment and instruction, Vantage Learning creates Adaptive Learning Environments™ to support student achievement and school improvement. Formed to meet the needs of the ever-evolving education industry, Vantage provides educators with sophisticated knowledge and immediate feedback solutions to enhance and support a continuous learning process. Its exceptional technology, including artificial intelligence, natural language understanding and web-based learning objects, provides adaptive resources for individualized instruction and professional development.
About McCann Associates
Since 1959, McCann Associates has been an innovative leader in the development and distribution of assessment, certification, business intelligence and personal development solutions. Leveraging advanced technology, McCann provides cost-effective tools via Software as a Service for Higher Education, Government and Public Sectors, Public Safety, Corporate HR and Employee Learning.