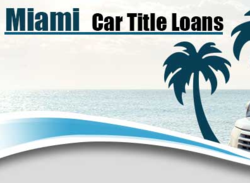 Miami, FL (PRWEB) March 22, 2013
A recent Gallup survey showed that while government hiring was increasing modestly before the sequester, as of March 1st, it's expected that all government net hiring is going to begin deteriorating. The federal government is expected to be hit hardest, but state and local government will also suffer. This is going to have a negative impact on job creation overall, though some people are hopeful that nongovernment hiring will increase.
Floridians are already feeling the pain of the sequester, and now many are facing layoffs or pay freezes. But the cost of living doesn't decrease just because wages do, and emergencies rarely wait until you can afford them. Miami residents now have an alternative source of funding for when their paychecks don't quite make ends meet: Miami Auto Equity Loans.
Miami Auto Equity Loans recently relaunched its website, and just in time for local residents who need a helping hand. A car title loan provides borrowers with the money they need now to cover immediate costs, like a medical bill or car repair. Rather than depleting their savings, Miami residents can now take out a secure low-interest loan, using their car title as collateral, and pay it back over a time period that works for them.
Title loans provide borrowers with the money they need within 24 hours of being approved of the loan. Repayment schedules take the borrower's income and monthly expenses into account, ensuring that the borrower will be able to make the monthly payments without a problem. Once the loan is paid off, the car title is returned to the borrower.
Unlike traditional loans, a bad credit score or no credit won't affect whether one qualifies for a loan. Instead, lenders base the loan amount on the value of the borrower's car, which acts as collateral. If the borrower makes his or her payment on time each month, a car title loan can actually improve his or her credit score.
Miami Auto Equity Loans understands that no matter how prepared a person thinks he or she is, sometimes unexpected circumstances occur. For those who find themselves in over their heads financially, it's reassuring to know that Miami Auto Equity Loans is ready to provide the assistance they need.