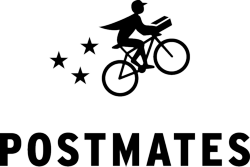 "We want to understand local inventory the same way Amazon understands the inventory in a warehouse."
Seattle, Washington (PRWEB) March 06, 2013
Postmates, an urban logistics startup based in San Francisco, today announced the launch of its one hour delivery in Seattle. Postmates offers same day delivery from any store or restaurant in the city through their service.
Postmates' mobile app connects its fleet of couriers with customers in Seattle, offering access to local inventory from the Apple Store, Nordstrom, Red Mill Burgers, Serious Pie, Walgreens and virtually anywhere else. Postmates equips each courier with a credit card, enabling them to purchase goods on behalf of its customers.
"We want to understand local inventory the same way Amazon understands the inventory in a warehouse," explained Bastian Lehmann, CEO and co-founder of Postmates. "By capturing and surfacing local inventory, Postmates seeks to radically change the way people purchase local goods."
The startup first launched the one hour delivery service in San Francisco in May 2012. Since then, Postmates has delivered over 130,000 items from over 6,000 restaurants and stores, including exclusively powering Whole Foods deliveries throughout the city.
Postmates currently has nearly 200 couriers in San Francisco and just over 40 in Seattle. Couriers make deliveries using their own bikes, cars, trucks, scooters and motorcycles.
The company has also just recently announced a startup discount program for startups downtown and in surrounding neighborhoods. Service is limited but will continue to expand over the next few months. Postmates has an Operations team in Seattle and will soon be opening an office in Pioneer Square.
"It's important for us to understand this city and the customers we have here," explained Lehmann. "You cannot run a successful operation without extensive knowledge of a market. Our team has spent months living and working in every neighborhood in Seattle."
Postmates has raised just over $2 million from a handful of angel investors including Jeff Clavier (SoftTechVC), Paige Craig (BetterWorks), and Naval Ravikant (AngelList) among others.
About Postmates:
Postmates is a revolutionary same day urban logistics and delivery platform that enables individuals to have any product in the city delivered in under an hour. In May 2012, Postmates launched Get It Now. Get It Now enables same day delivery by arming couriers with credit cards to purchase goods on behalf of the user at any retail store or merchant in the city. Postmates was co-founded by Sam Street, Sean Plaice and Bastian Lehmann in 2011, and is headquartered in San Francisco with an additional office in London.
To download Get It Now, visit http://www.postmates.com/getitnow or download directly from the app store.