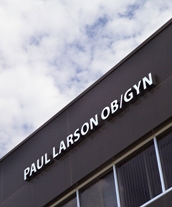 Staying focused on what is best for the patient and having a strong team approach to meeting patient needs.
Edina, MN (PRWEB) March 11, 2013
According to MN Community Measurement's 2012 Health Care Quality Report, the Paul Larson OB/GYN clinic, a physician practice that specializes in obstetrics and gynecology, achieved above-average ratings on more than half of its reported clinical measurements. These results place the clinic in the top three of twenty OB/GYN practices that earned above-average rates more frequently than any other group.
The clinic was judged in multiple categories, including maternity care and screenings for breast cancer, colorectal cancer, chlamydia, and cervical cancer. In all categories the Paul Larson OB/GYN clinic had rates and confidence levels well above the state average.
When asked what contributes to their consistently high performance, Medical Director, Dr. Charles Hirt says, "staying focused on what is best for the patient and having a strong team approach to meeting patient needs."
The goal of the Health Care Quality Report is to improve the quality of health care in Minnesota and surrounding states. MN Community Measurement feels publicly reporting health care information helps keep patients better informed and motivates medical groups to continually progress. The three-part mission of their report is to improve, empower, and change, and the 2012 issue is their ninth annual report.
The Paul Larson OB/GYN Clinic is indeed helping MN Community Measurement meet its goals, as the clinic has shown consistent improvement, in addition to its above-average rates, over the last three years of the quality report.
After caring for women for over 50 years, it can't be easy for the group to find new ways to perfect their practice, yet apparently they are proving it's possible.
"We work daily on improving patients' experience and health status. It is exciting to see our efforts pay off in being recognized as a Highest Performer in Minnesota for maternity care, and screenings for breast cancer, Chlamydia, cervical cancer, and colorectal cancer. Our mission to provide high quality, high value care means healthier women in all stages of life, and that's great news!" says Darvia Herold, Executive Director.
Women in every stage of life are welcome at the Paul Larson OB/GYN clinic and can expect care for everything from maternity care and yearly checkups to treatment and surgery for a variety of conditions. For information about the clinic and its services, visit the Paul Larson OB/GYN website or contact the group by email or phone.