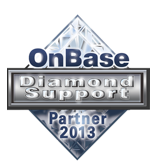 Knoxville, TN (PRWEB) March 08, 2013
LBMC Technologies, LLC the Southeast's leading full-service technology firm and a member of the LBMC (Lattimore Black Morgan & Cain, PC) Family of Companies is proud to announce they have received the 2013 Hyland Software Diamond Award for technical knowledge and support expertise.
"We are extremely proud to have been recognized for the 5th year with the Diamond Award status for our expertise and commitment to superior customer service," said LBMC Technologies partner Jeff McCorpin. "Given the drastic changes currently taking place in the technology industry, many consulting firms are being conservative. We are making big investments to continue to grow and expand our expertise and solutions offerings to our clients. At the end of the day, our goal is to continue to deliver added value to our clients, provide continued learning and growth opportunity to our employees, and to ensure our long-term success.
The Diamond Award is an annual recognition for partners that have gone above and beyond to make sure the OnBase Community is supported with excellence. Criteria are based on numerous items including: training, customer retention, ratio of employees providing support to the number of customers and percentage of customers using the current software release.
"LBMC Technologies, LLC has a proven track record of providing comprehensive solutions that solve everyday problems for organizations," said Bill Kavanaugh, director of U.S. channel sales for Hyland Software. "We hold our partners to the highest standards of professionalism and LBMC Technologies well surpassed those benchmarks."
About LBMC Technologies
LBMC Technologies, LLC, an award winning, comprehensive IT and business consulting company has nearly two decades of proven experience working with companies on their core business needs including financial and business management software, network infrastructure, and cloud based solutions. LBMC Technologies differentiates itself from other providers by offering a consultative approach to each company's needs in order to provide a 'best in class' solution that helps them improve productivity, reduce complexity, and strengthen ROI. LBMC Technologies services small to Fortune 500 companies across the Southeast. Services include implementation, training, and support of Financial, CRM, SharePoint, and Enterprise Content Management (ECM) software solutions as well as network administration, remote managed services, business intelligence and custom application development. For more information on LBMC Technologies, visit http://www.lbmctech.com.
About the Hyland Software
For over 20 years, Hyland Software has helped our more than 11,300 lifetime customers by providing real-world solutions to everyday business challenges. That dedication is why Hyland realizes double-digit growth, and why 98 percent of our customer base continues to renew its annual maintenance. Our customers see the ongoing value of partnering with Hyland and continue to work with us year after year.
Hyland's enterprise content management (ECM) solution, OnBase, is one of the most flexible and comprehensive ECM products on the market today. OnBase empowers users to grow their solutions as needs change and business evolves. It is tailored for departments, but comprehensive for the enterprise, designed to give you what you need today and evolve with you over time. For more information about Hyland Software's ECM solutions, please visit Hyland.com.