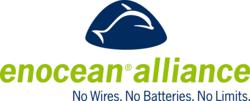 San Ramon, CA (PRWEB) March 07, 2013
The EnOcean Alliance is advancing the interoperability between EnOcean-based products from different OEMs by developing the EEP 2.5 version of the "EnOcean Equipment Profiles" (EEP). More than 100 product profiles are now available, for developing different energy harvesting wireless solutions for building and industrial automation and smart home systems. New profile families now summarize several applications and facilitate the creation and release of a new profile by Alliance members. The public new version 2.5 of the EEP specification has 24 new profiles and can be downloaded at http://www.enocean-alliance.org.
With more than 300 members in 34 countries worldwide as well as over 1000 interoperable products and solutions, the EnOcean Alliance is one of the most successful technical alliances. The common technological base is the energy harvesting wireless technology from EnOcean, which uses energy from the surroundings. Using energy harvesters, motion, light or temperature differences are used as an energy source for maintenance-free wireless modules.
Interoperability is a Trump Card
One of the EnOcean Alliance's key strengths is the interoperability of EnOcean-based solutions. It allows for products from different manufacturers to be able to communicate and work amongst themselves. The foundation for this is standardized application protocols (EnOcean Equipment Profiles or EEPs), developed by the Alliance's Technical Working Group (TWG) and based on the international wireless radio standard ISO/IEC 14543-3-10.
The newest version 2.5 of the EEP specification has grouped applications with similar attributes together into profile families for the first time. This concept is a guideline for new product and profile development. New applications, meaning new "family members", are therefore easier to create, classify into specifications and release into the TWG. A new area of variable length data profiles (VLD, profiles with variable data content), has been created, especially for new product development and application. That way, OEMs can realize products with a flexible and extensive application spectrum, carried out with the small energy budget provided by energy harvesting. An example would be an energy-autonomous, thermostatic radiator valve, which only uses heat as an energy source, and communicates with another solar-powered control device.
In addition, standardized learn-in methods for unidirectional and bidirectional wireless applications and profiles for encrypted data communication supplement the new specification. The latter is very important for critical applications like access and control systems or for the secure networking of consumption data over cloud services.
About EnOcean Alliance
Leading companies worldwide from the building sector collected to form the EnOcean Alliance and establish innovative automation solutions for sustainable building projects – and so to make buildings more energy-efficient, more flexible and lower in cost. The core technology of the Alliance is energy harvesting wireless technology for flexibly positioned and service-free sensor solutions. The EnOcean Alliance aims to internationalize the energy harvesting wireless technology, and is dedicated to creating interoperability between the products of OEM partners. Basis for this is the international standard ISO/IEC 14543-3-10, which is optimized for wireless solutions with ultra-low power consumption and energy harvesting. More than 300 companies currently belong to the EnOcean Alliance. The headquarters of the non-profit organization is located in San Ramon, California.
[http://www.enocean-alliance.org