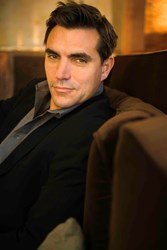 I am thrilled to continue working with the Bellagio and to be collaborating with them on their excellent Epicurean Epicenter program
Las Vegas (PRWEB) March 07, 2013
Chef Todd English will be participating in an exciting and exclusive culinary experience this Saturday, March 9 at 6:30 p.m., when he joins celebrated wine house, JUSTIN Vineyards & Winery in preparing a decadent four-course meal for the Bellagio's Epicurean Epicenter series.
Chef English, whose renowned restaurant Olives also makes its home at the infamous Bellagio, will be part of an intimate presentation where he will be explaining every aspect of the menu creation process, from ingredient selection to finishing touches. Joined by Master Sommelier, Joseph Spellman and Bellagio Director of Wine, Jason Smith, the trio will treat guests to an exceptional culinary lesson that will include expert guidance on the art of wine pairing with the help of the fine wines of JUSTIN Vineyards & Winery in Paso Robles, California.
Taking place at the Bellagio's Tuscany Kitchen, the Epicurean Epicenter series will unite English's interpretive Mediterranean cuisine with the world-class wines of the acclaimed winery, creating what is sure to be one of the highlights in the Bellagio's extraordinary events calendar.
"It is a real treat to be taking part in such a unique and extraordinary event where I can really demonstrate the importance of marrying the bold flavors of food with the delicate and intricate components of wine," says Chef English. "I am thrilled to continue working with the Bellagio and to be collaborating with them on their excellent Epicurean Epicenter program."
The culinary experience begins with Chef English preparing Poached King Crab Merus Leg accompanied by micro insalata, béarnaise sauce and candied lemons paired with the delicate notes of Landmark Overlook Chardonnay. The second course, English's "Duck Duck Goose," features the tasty bird in various forms including seared duck breast with leg confit and foie gras tortellini. JUSTIN Winery's Justification, a balanced and complex red wine featuring aromas of both fruit and spice, will complement this decadent dish. The experience continues with English's Veal Osso Buco with parmesan polenta, garlicky spinach and walnut gremolata paired with JUSTIN's Isosceles and Isosceles Reserve red wine blends. The final course, a sweet finale, presents a Peanut Butter Falling Cake with milk chocolate ice cream and caramel sauce paired with JUSTIN's Obtuse, a port-style dessert wine made from Cabernet Sauvignon.
The partnership of the culinary expertise of Todd English and JUSTIN Vineyards & Winery's exquisite Bordeaux-style blends and single varietals once again creates the type of exclusive experience for which Bellagio's Epicurean Epicenter series is known.
Tickets are priced at $175 per person, all-inclusive, and available for purchase online at http://www.bellagio.com under Epicurean Epicenter, Justin Winery Dinner or by calling Bellagio Concierge at 866-406-7117.
Facebook: ChefToddEnglish
Twitter: @ChefToddEnglish
About Todd English
Todd English is a celebrity chef, restaurateur, author, entrepreneur, and television star based in Boston, Massachusetts and New York City. Chef and owner of Olives in Charlestown, Massachusetts since 1989, English has gone on to establish Olives as one of the most prestigious names in the nation by opening other locations around the world: Olives New York in the W Hotel in Union Square, Olives Las Vegas at the Bellagio Hotel in Las Vegas, and the most recent, Olives Mexico City in Mexico. A four-time James Beard Award winner and inductee into the James Beard Foundation's "Who's Who in Food and Beverage in America," English was also named one of "People Magazine's 50 Most Beautiful People." Todd has authored the critically acclaimed cookbooks, The Olives Table, The Figs Table, The Olives Dessert Table, and Cooking In Everyday English. In 2005 his line of cookware and lifestyle products, The Todd English Collection, debuted on HSN, breaking electronic retail records in the house ware category. Todd English Enterprises includes over twenty innovative restaurants spanning the country and abroad. Most recently, Todd opened his fifth location of his pizza restaurant Figs overseas in the Middle East at the 360 Mall in Kuwait. May 2012 revealed the highly anticipated renovation of English's flagship restaurants- Olives Boston and Olives New York. Both restaurants just reopened with fresh new interior designs and menu offerings to complement English's signature Olives classics. 2010 brought the opening of two new restaurants in New York City, his European-inspired Todd English Food Hall at the iconic Plaza Hotel, as well as his French-inspired Brasserie Ça Va, located in the heart of the theater district. Also that year, English opened his first pub concept - Todd English P.U.B. at Las Vegas' CityCenter. For more information on chef Todd English and his restaurants please visit our website at http://www.toddenglish.com. Facebook – http://www.facebook.com/ChefToddEnglish and on Twitter- @ChefToddEnglish