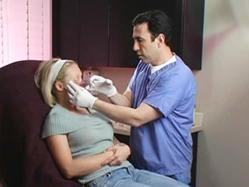 Los Angeles, California (PRWEB) March 06, 2013
According to a study published by Time, the number of minimally invasive procedures performed in the U.S. increased by 6 percent in 2012. Minimally invasive cosmetic procedures are non-surgical and can usually be performed on an outpatient basis. The most popular of these procedures were Botox injections, soft tissue filler injections (such as Juvéderm and Restylane), laser hair removal, chemical peels and microdermabrasion. (Go to goo.gl/mAepU)
"I see these numbers reflected in my practice," says Dr. Simon Ourian, Medical Director of Epione Beverly Hills. "I don't know, however, that I agree entirely with the 'lipstick theory' mentioned in the report. I believe that the rising number of minimally invasive procedures performed correlates to improvements in the technology leading to better aesthetic results."
Botox and Dysport are the brand names of botulinum toxin, a substance that when diluted and injected smooths out wrinkles by temporarily weakening facial muscles. Doctors reportedly performed 6.1 million Botox and Dysport injections in 2012 - a record high.
Consumer psychologists attribute this rise in cosmetic procedures to what they call the "lipstick effect." The theory is that when the economy is weak, people cut back on making big purchases, but they are more likely to allow themselves smaller indulgences. Instead of spending money on expensive shoes, someone might buy lipstick instead, hence the name "lipstick effect." Instead of an expensive surgical procedure such as a facelift, someone might opt instead for a relatively cheap Botox appointment.
Another theory posits that some consider money spent on minimally invasive procedures to be an investment in their careers. While older workers know that their skills in the workplace should be kept sharp, they also have begun to recognize they may need to appear younger and more attractive if they want to advance in their careers. Studies have shown that workers who are considered to be attractive, handsome or pretty make as much as 5 percent more than those with similar jobs and skill levels.
"Whatever the cause," concludes Dr. Ourian, "this is the third consecutive year of increases driven by minimally invasive procedures. I anticipate we'll be having this same conversation next year.
Dr. Ourian has been a pioneer in laser technology and non-invasive aesthetic procedures including Restylane, Juvéderm, Radiesse and Sculptra. These treatments are used for the correction or reversal of a variety of conditions such as acne, acne scars, skin discoloration, wrinkles, stretch marks, varicose veins, cellulite, and others. More information about the rise in plastic surgery spending can be found on Epione's website.