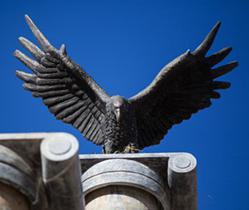 Lynchburg, VA (PRWEB) March 06, 2013
Liberty University recently announced that a South Carolina couple has set up a $1 million charitable gift annuity with the school. The couple will also have a reading room named in their honor in the new Jerry Falwell Library, currently under construction.
Everett Foutz, a planned giving officer at Liberty, said the decision was twofold.
"They believe in what we're doing here, training young people to impact their culture through Christian education, but they're also sold on the fact that it is an excellent financial decision at this time."
A charitable gift annuity is both a gift and an investment. Donors can transfer cash or securities in exchange for a fixed income stream for life. The rate of return is based on age.
"It's a great option, a great way to invest in the Lord's work and receive a nice income for the rest of their lives, too," Foutz said.
Tom Arnold, vice president of development, said Liberty depends on its loyal supporters who share in its uncompromising mission and commitment to Christian values.
"We are grateful for those who willingly give to help us continue our mission. This recent gift will ensure more generations of Champions for Christ at the world's largest Christian university."
To learn more about Planned Giving to Liberty University, go to http://www.lugiving.com or call (800) 543-5309.
About Liberty University:
Liberty University, located in Lynchburg, VA, is the world's largest Christian university. Nearly 100,000 students attend classes on its 6,800-acre residential campus and study in its thriving online education program.