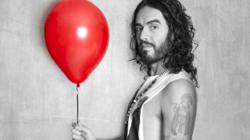 "Yoga is an important part of my recovery. For me, it's as important as brushing your teeth."- Russell Brand
Los Angeles, CA (PRWEB) March 06, 2013
Tonight on BBC 3, British comedian/actor Russell Brand hosts "Give It Up For Comic-Relief," an event designed to raise money to help those affected by drug and alcohol addiction. Being a luxury rehab center, Prominence Treatment Center fully supports events like this.
The most inspiring piece of tonight's broadcast will be the fact that Russell Brand, a former alcoholic and heroin addict, will be hosting. He has been sober from both drugs and alcohol for more than 10 years, after getting help at an in-patient treatment center (like Prominence Treatment Center). And since his 12-week stint at rehab, he has not touched a drop of alcohol or an ounce of heroin.
Prominence Treatment Center's non-12 step rehab program offers a variety of different rehab treatments, based on each individual's preferences. Mr. Brand has been reported as saying that yoga is a very important part of his recovery process.
"Yoga is an important part of my recovery. For me, it's as important as brushing your teeth."
Prominence Treatment Center offers many different types of therapy in order to have the right treatment for all types of client needs. Yoga therapy is a popular choice among the clients that choose Prominence Treatment Center.
Tonight's show will not only be for a good cause, but very entertaining as well. Scheduled to appear on the program are Noel Gallagher, Jessie J, Emili Sande, and Eddie Izzard.
While Prominence Treatment Center has no official affiliation with this event, we fully support the values it represents. We encourage people to either get involved with Comic-Relief or talk to a representative at our facility, especially if you know someone suffering from alcohol or drug addiction.
For more information please visit http://prominencetreatment.com/ or call 877-383-2284
Prominence Treatment Center is a luxury, private drug and alcohol residential rehabilitation program located in Malibu, California. Prominence Treatment Center offers Non-12 Step treatment to its clients.
Through the Non-12 Step process, Prominence Treatment Center takes a holistic approach to healing for each individual. Every treatment program is tailored to the individual to:

Address underlying issues
Provide the highest level of care and comfort
Change individuals' thought process and behaviors
Eliminate addiction for the long term