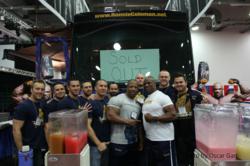 Boynton Beach, Florida (PRWEB) March 08, 2013
The last week for Ronnie Coleman Signature Series™ might possibly have been the best yet. It began with a meeting at the headquarters of the largest distributor in the USA, Europa Sports. According to the King, the partnership couldn't have kicked off on a better note. "We came in nervous and left feeling like we were family. We have a very similar corporate culture and I know we will dominate the industry with Europa and also have fun doing it. Eric Hillman and his team are great," said Ronnie. For more information contact your regional Europa representative now.
Immediately after the meeting, Ronnie caught a flight straight to the Ohio for Ronnie Coleman Signature Series™ inaugural Arnold Classic. Although Ronnie has attended nearly every Arnold Classic since its inception, he was still extremely anxious. "I felt like I was competing. The Arnold Classic is the homecoming of the sports nutrition industry and as a former champion; I wanted to make sure we delivered to the fans, Mr. Lorimer and Mr. Schwarzenegger. I was truly overwhelmed by the support and turnout. We completely sold out of product and that's something I haven't seen happen before, ever. Ours fans have spoken and this is truly just the beginning."
Up next is the Australian Grand Prix, sponsored by none other than Ronnie Coleman Signature Series™! The event take place in Melbourne, Australia this Saturday, March 9th 2013.
The Ronnie Coleman Signature Series™ booth (sponsored by Nutrition Systems) will feature free autographs from Mr. Coleman and Shawn Rhoden. There will also be a guest appearance by IFBB Pro Jeff Long, who will also be competing in this year's event. "Australia is my favorite place to visit. The fans are great and the sport of bodybuilding is huge. I've been going there for 15 years! I'm honored to be the title sponsor of Tony's event. Last year's event and tour were great and I'm expecting bigger things this year. Especially since I'll have my protégé, Shawn Rhoden, with me," said Ronnie.