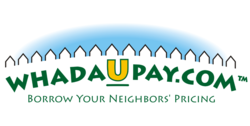 Newtown, Bucks County, PA (PRWEB) March 07, 2013
At whadaUpay.com (or "WUP"), members share the who, what, where, and the how much on local providers of everyday services with whom they have done, or are currently doing, business. WUP does not allow ratings, reviews, or opinions on its site, believing that consumers desire hard data in their search for local providers of everyday services. For those reasons, WUP is emerging as a value-added alternative for consumers to sites such as Angie's List and Yelp.
While WUP's actual membership numbers are confidential, it has announced the following milestones:

WUP experienced its fourth consecutive month of record new subscriber growth, both in terms of total members as well as the rate of membership growth
WUP also recorded its best week of new member additions since its founding
WUP is also about to launch its new "King of the Cul de Sac" themed commercials which will run on five cable networks, in various markets within the greater Philadelphia region. These ads follow the website's successful radio ads and will highlight the primary benefits of membership, through a series of fun and entertaining commercials
WUP also announced that its membership now spans more than a dozen U.S. states
Tom and Cari Grundman, founders of whadaUpay.com explain, "Our goal is to build a community of neighbors who help their friends, relatives, and other residents buy from local providers. We want to bring customers and skilled vendors of everyday services, many of whom already work nearby, together by facilitating the sharing of objective, and quickly verifiable, data. Consumers tell us they are weary of trying to guess who is the disgruntled competitor, the sympathetic relative, or other posters with hidden agendas on online 'review' sites."
And while we now enjoy members in a growing number of states, the largest concentration of WUP Neighbors is here in the Delaware Valley. Our television ads will target these areas first to capitalize on our momentum; the more who join, the better whadaUpay gets. To incentivize new members, while rewarding their patience and faith in our concept, WUP provides the first 90 days at no cost and an extremely competitive membership fee (to join) of less than $5.00 per year thereafter! Unlike some of our larger competitors, we don't take your credit card and automatically charge for future renewals."
Background: http://www.whadaUpay.com also owns and operates a domain under the name http://www.whatdoUpay.com. Together, both sites currently offer tracking of multiple, frequently used, low cost of failure services that are substantially similar from house to house, town to town, and state to state. The website allows and encourages both consumers and service providers to join as Neighbors and Vendors, respectively. For more information, please contact support(at)whadaUpay(dot)com.