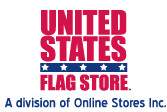 (PRWEB) March 14, 2013
United States Flag Store, the popular online supplier of quality flags, flagpoles and accessories, is set to attend the massive ASD Trade Shows in March of this year. United States Flag Store will showcase many of their high quality and highly sought after products at the large event. This comes as good news to people seeking best-in-class flags and more at low online prices.
This ASD Trade Show is slated to take place March 17-20, 2013 at the Sands Expo Center in Las Vegas, Nevada. This massive event is designed to attract a wide variety of quality merchandise together in one mega consumer-goods trade show. It features the latest from multiple industries, such as fashion accessories, jewelry accessories, health and beauty, toys and novelties, and much more. United States Flag Store themselves offer a wide selection of quality goods and they look forward to presenting at this highly anticipated trade show.
Through their popular website, Untied-States-Flag.com, United States Flag Store is the leading online supplier of high quality flags, flagpoles and more in the country. They offer a wide selection of American flags, indoor flagpole kits, cheap flags from around the world, Valley Forge flags, outdoor American flags, and more. Their affordable online flags come in a variety of materials, sizes, and levels of quality, including many tough US flags made in the USA. United States Flag Store is looking forward to presenting products at the upcoming ASD Trade Show and to continuing serving their valued customers throughout the US and beyond.
About United States Flag
The United States Flag Store is the largest flag, flagpoles and accessories online vendor. They are a division of Online Stores, Inc. They stock an enormous amount of inventory, including over $3 million in flags of various fabrics, qualities and sizes and over $1 million in flagpoles, flag display cases, patriotic decoration and flag accessories. They manufacture their own stick flags, with over 6 million sold in 2010 alone. They have sold their products to over 1 million retail customers throughout the country, including government, military, veteran organizations and multiple Fortune 500 companies. They are BBB Accredited and assure excellent customer service. For more information, visit http://www.united-states-flag.com/ or follow them on Facebook, Twitter, Pinterest, Google +, or LinkedIn.