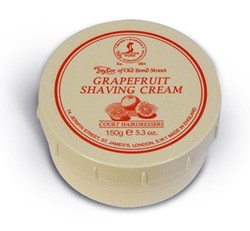 Toronto, Canada (PRWEB) March 07, 2013
Despite having established an excellent reputation as one of the leading manufacturer of fine grooming products for men, Taylor of Old Bond Street has not been content to rest on its laurels. The British manufacturer is introducing products that incorporate a new scent designed to complement its existing lineup, which ranges from its signature St James Collection to more classical scents such as almond, rose, and sandalwood. This new scent has been assigned the simple name of grapefruit because the strongest note in the scent is a refreshing blend of orange and sun-ripened grapefruit.
Taylor of Old Bond Street has chosen its shaving cream bowl to be the first product to feature its new grapefruit scent. Similar to other products belonging to the same line, the grapefruit-scented shaving cream bowl contains 150 grams of formula that can be applied to the user's face using either hands or a shaving brush. Once lathered on, the shaving cream serves to both nourish the skin and protect it from the harsh edge of the razor. The sole difference of this product from the other shaving cream bowls made available through Taylor of Old Bond Street is the grapefruit scent that lingers long after the user's face has been washed clean of lather.
Fendrihan is the first retailer to receive a shipment of the grapefruit shaving cream bowls. As a result, Fendrihan is the first retailer in either Canada or any other country in the world to be able to offer Taylor of Old Bond Street's latest product to its customers. For a limited time period, the Toronto-based retailer of shaving products, fine pens and leather accessories for men will be one of only two suppliers for the grapefruit shaving cream bowl, with the other being the British manufacturer's own online operations.
This debut follows on Fendrihan having been able to debut Taylor of Old Bond Street's coconut shaving cream bowl a few months ago. Both incidences are illustrative of Fendrihan's dedication to providing its customer bases with pleasant surprises.
About Fendrihan:
Fendrihan is the premier Canadian online destination for shaving and grooming supplies for men. With a comprehensive product range that includes traditional grooming staples, hard-to-find products from around the globe and some of the most reputed names in gentlemen's personal care, Fendrihan's selection appeals to veteran wet-shavers and men of any age looking to elevate their daily grooming rituals. The Fendrihan catalog also includes fine writing instruments and European leather accessories that offer organization and clever convenience demanded and appreciated by their customers.
Contact Info:
sales(at)fendrihan(dot)com