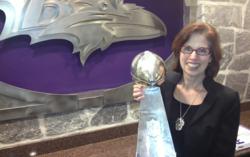 "Susan has really helped me focus on key opportunities and increase the speed of closing business," Account Executive Chad Unitas explains.
BALTIMORE, MD (PRWEB) March 07, 2013
The players may be packing up and getting ready to enjoy some downtime, but for the Baltimore Ravens sales and marketing team, the game is just beginning. And just like their on field colleagues, this special team has a coach of their own to help them stay focused on the win.
Susan Katz, owner of the Baltimore Growth Coach franchise, has signed on to coach the Baltimore Ravens' sales and marketing team. She'll be helping the staff secure the sponsorships and develop partnerships that will enable the team to thrive next season.
"My work with the Ravens' sales and marketing team is what I call business development coaching – I help them clarify their direction and strategize an action plan to keep them focused and also set goals to keep on track," she says. "The sales and marketing team's work is just gearing up now as they look to renew sponsorships and develop the various activities that will allow each sponsor and the team to get the most from their partnerships."
Katz first started working with the Ravens business management team about two years ago doing leadership development. Then, in November of last year, she developed a coaching relationship with the sales and marketing team. Now she coaches the team monthly with the objective of elevating performance, meeting goals and reaching a higher level of success.
"I have a very practical approach. The fact that we all meet as a group brings up issues that you don't always take the time to consider and review – we've been able to address some things within the department that have helped to improve their productivity and effectiveness," Katz explains. "These are really high quality people who are very engaged in the process of change and improvement. That makes them very exciting to work with, and very good at using the skills we learn to help them improve."
Although Katz has only been coaching the Ravens' sales and marketing team for a few months, she's already making a difference for them.
Account Executive Chad Unitas explains that "Susan has really helped me focus on key opportunities and increase the speed of closing business." Thanks in part to her coaching, Unitas recently closed a $200,000 sponsorship deal.
Katz may be coaching one of the city's highest profile sales teams, but closing a six figure deal each month isn't a requirement to use her services. She regularly coaches a wide variety of business owners, managers and sales professionals throughout the city. With more than 30 years of corporate experience plus five years as a Growth Coach owner, her success stories are numerous.
"I think what resonates with clients is that I'm very practical and results-oriented. Any time you make an investment, you want to see results. With each new client, we first talk about what those results should be and how they can be achieved. Results are essential to building your business," she states. "I don't come in to do the work for clients or to just be a cheerleader. I come in to help identify areas that need attention, develop a strategic plan for those areas and then help clients create the right mindset and develop the right tools to achieve their goals. My coaching takes work not just on my part, but on my clients' part, too – it's their success that we're aiming toward after all. But when we're all working together to focus energy and effort, everyone thrives."
For more information about Susan Katz and The Growth Coach in Baltimore, call 1-410-504-6725, email s.katz(at)thegrowthcoach(dot)com or visit http://www.susankatzcoaching.com.
ABOUT THE GROWTH COACH
Founded in 2002 in Cincinnati, Ohio, The Growth Coach is the only pure business and sales coaching franchise system with the single purpose of helping drive success and balance the lives of business owners and their management and sales teams. Their goal is to help clients gain greater focus so they can work less, earn more and enjoy more fulfilling lives. Clients include business owners, franchise owners, self-employed professionals, executives, sales teams, and management teams across a wide spectrum of businesses and industries. Growth Coach specializes in group workshop coaching and provides a money-back guarantee on their services. They also provide individual coaching, in-person and via phone/web.
The Growth Coach defines business and sales coaching as the art and science of guiding clients to reach their objectives and overcome obstacles and limitations that keep them from reaching optimal success in business, and in life. The Growth Coach is active in over 140 markets across North America and has expanded into international markets. In addition to unit franchise operators, they are also seeking Area Developers for parts of the U.S. and Master Franchises for international markets.
For more information about The Growth Coach or the process of opening your own #1 business coaching franchise, visit http://www.TheGrowthCoach.com.