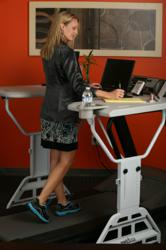 The work surface is more than spacious enough for a laptop, peripherals, papers, drinks, and anything else you might need.
Scottsdale, AZ (PRWEB) March 07, 2013
TrekDesk treadmill desks empower workers to improve their health and while many started to walk at work as a way to lose weight and maintain health a large number of TrekDesk users have also reported an increase in productivity and creativity enhanced by the ability to walk while working.
WV, an author from Hillsboro, Oregon sharing his observations on Amazon.com, noticed immediately that walking while working with his TrekDesk treadmill desk had an positive impact on his writing skills and productivity. "In the four weeks prior to setting up the TrekDesk, I averaged 13.31 WPM in writing new material. In the four weeks after starting with the TrekDesk, I increased to 15.66 WPM. The crazy thing is that, far from having to adjust to writing and walking at the same time, my daily logging clearly shows that the faster I walk, the faster I write. At 3.0 MPH, I come close to cracking 20 WPM. Still, just looking at my four-week averages, that's an improvement of 2.35 WPM. Figuring 90-minute sessions 255 days per year, that's an extra 54,000 words of writing each year -- enough for a novel -- just from walking while I write."
"While this is anecdotal evidence it does coincide with a variety of studies that show the positive impact of walking on cognitive abilities. Studies at the University of Illinois previously measured critical thinking and memory skill increases of 15% along with significant increases in small blood vessel production in the brain (43%) in 6 month study periods," stated Steve Bordley, CEO of TrekDesk Treadmill Desk.
Walking speed and typing ability is different for everyone however the average walking speed that TrekDesk recommends is 1.5 mph, especially for employees who plan on walking all day.
Writers also appreciate the generous size of the desktop work area as well. "The work surface is more than spacious enough for a laptop, peripherals, papers, drinks, and anything else you might need. As a user, I'm thrilled with the results and have zero complaints."
Designed to fit any existing treadmill, TrekDesk treadmill desk is an affordable, full sized, height adjustable workstation that allows individuals the opportunity to gain the necessary amount of daily exercise to lose weight, maintain health, reduce stress, prevent disease, strengthen muscles, boost mood and productivity, without requiring additional time during the day or extra motivation. Wondering how to improve health while working? TrekDesk treadmill desk offers the solution.
Join the TrekDesk "Movement Revolution" to learn more, spread the gospel regarding movement, or win a free TrekDesk http://www.facebook.com/trekdesk, or follow TrekDesk on twitter http://www.twitter.com/trekdesk. TrekDesk treadmill desk is currently available for sale online at http://www.trekdesk.com.