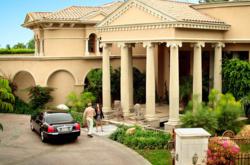 When it comes to non-violent drug offenders, treatment should always be considered an option. - Pax Prentiss
Malibu, CA (PRWEB) March 12, 2013
Less than one month after California Governor Jerry Brown declared the state's prison population crisis "over," three judges from the 9th U.S. Circuit Court of Appeals ordered the state to again reduce the inmate population within the next six months. While many of the inmates currently incarcerated for criminal convictions in California are violent offenders, a great many of them are in prison for drug-related offenses and stand to benefit from better access to addiction treatment programs.
California officials have publicly stated that they cannot meet the court's previous deadline for reducing its population to 137.5% of originally designed capacity and have granted a six-month extension to make the mark by December 31st, 2013. While releasing violent offenders is not an option, the situation brings to light new opportunities for treatment in lieu of incarceration for non-violent offenders.
"When it comes to non-violent drug offenders, treatment should always be considered an option," says Pax Prentiss, CEO of the world-renowned Passages, "I've spent more than ten years helping people find a better way toward healing their addiction that focuses on healing their underlying issues. Passages addiction treatment program offers some extremely effective tools to help restore your life. After my own struggles with addiction, and subsequent 12 years of sobriety, I feel that these tools should be offered to anyone whose ready to turn their life around, from prisoners to business executives, and everyone in between. Redemption and healing are always possible."
U.S. District Court Judges Lawrence K. Karlton and Thelton E. Henderson have watched years of legal proceedings unfold with the goal of bringing the level of inmates' mental and medical healthcare up to higher, near-Constitutional standards. After a recent trial, the judges ruled that crowded conditions at 33 of the state's adult prisons were a key reason behind unconstitutional care.
Gov. Brown started his "realignment program" one year ago to divert nonviolent offenders to local custody. California incarceration rates increased from 443 per 100,000 adults in 1990 to a peak of 673 in 1998, then declined to the current rate of 595 per 100,000. California's incarceration rate ranks 18th among states.
At Passages Malibu - Addiction Ends Here™
About Passages Malibu & Passages Ventura:
Father and son team Chris and Pax Prentiss founded Passages Malibu in 2001. Its second location, Passages Ventura, first opened its doors in 2009. The two alcohol and drug abuse treatment centers offer an alternative to the 12 step/AA model of addiction treatment by utilizing a holistic program that focuses on the underlying issues of substance dependency, rather than attributing addiction to an incurable disease.
Both Passages Malibu and Passages Ventura accept insurance and each have earned the coveted Joint Commission (JCAHO) accreditation, which has only been given to 6% of the nation's behavioral health treatment programs.
Passages Malibu was named the #1 treatment center in the world by Healthcare Global and one of the "Most Luxurious Places to Dry Out" by Forbes magazine. The co-founders are also authors of an acclaimed series of addiction treatment books, including their groundbreaking, flagship title, The Alcoholism & Addiction Cure.
For general inquiries about treatment, contact: 866-233-1753.
For media inquiries, contact:
press(at)passagesmalibu(dot)com