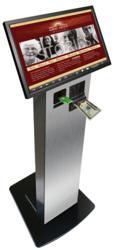 Clarence, NY (PRWEB) March 07, 2013
inLighten, a recognized leader in the field of digital signage, self-service and audio solutions announced today the release of the iGIVE Digital Donation Kiosk. "This unique kiosk has been created to address a number of the issues faced by organizations such as museums, zoos, arts groups and houses of worship that depend on donations for a significant portion of their funding," said Matt Welter, inLighten Director of Communications. "The iGIVE Kiosk is attractive, interactive and invites spontaneous giving in a way that makes filling an envelope or mailing a check a thing of the past."
inLighten CEO Dan Snyder added, "With the continuing transition to a cashless society, the expansion of alternate payment methods and the proliferation of information resources, donation supported organizations have had numerous conversations with us about a unified solution that would enable them to integrate giving and self-service information gathering into the experience individuals have when they attend an event, participate in an activity or visit an organization's facility. iGIVE is the answer to that need."
For donors who use cash or check, the iGIVE Kiosk features a cash and check acceptor that deposits donations into an all-steel, double-secured vault within the kiosk. A bank card reader is also provided to enable giving by credit or debit card. Completing the spectrum of payment options is the iGIVE Kiosk's ability to accept online donations made through PayPal, Intuit, Google Wallet or other online payment services with which an organization participates. A user-friendly, touch screen interface with pop-up onscreen keyboard makes the process quick, simple and convenient for donors. Once a donation is made, it is tracked internally by system software and made available for import into a spreadsheet or directly into an organization's accounting software for easy reconciliation.
Welter continued, "While organizations will be excited about the iGIVE Kiosk's ability to securely accept donations 24/7/365, what they will find to be particularly powerful is the iGIVE Kiosk's effectiveness as a means of providing more information and interaction to visitors and members." When idle, the iGIVE Kiosk functions as a high-visibility digital sign with an always present donate option. Using iGIVE Manager™, an intuitive, web-based content management interface, organizations are empowered to create, schedule and target dynamic media including video, graphics, audio, PowerPoint presentations and even links to desired URLs to one or more iGIVE Kiosks. Content is accessible to users through simple on-screen prompts.
"The iGIVE Digital Donation Kiosk has been designed as a total solution that can significantly increase donations by making the act of giving a seamless part of the way individuals engage with an immersive information resource," concluded Snyder. The first iGIVE Kiosk installations are scheduled for the second quarter of 2013.
inLighten is a pioneer in networked digital media solutions including digital signage, self-service kiosks, on-hold and environment audio services and speech privacy solutions that empower clients to effectively and securely communicate with their audiences. Powered by inLighten digital media management software that enables customized content creation, scheduling and distribution controls, inLighten solutions are scalable, cost-effective and exceptionally reliable. Industry-leading consulting, installation, technical support and creative services deliver a superior customer experience and provide a single point of accountability for all aspects of implementation, day-to-day management and continuing network operation. inLighten's headquarters are in Clarence, NY. http://www.inlighten.net