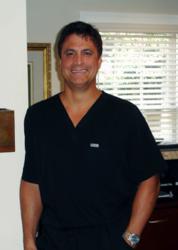 Durham, NC (PRWEB) March 06, 2013
Dr. Jason Cataldo is a periodontist who has joined a very small percentage of certified dental professionals who use the Laser Assisted New Attachment Procedure to fight gum disease. Only about one percent of dental professionals in the United States are certified on this FDA cleared procedure. This technologically advanced treatment protocol allows Dr. Cataldo to remove up to 90 percent of the inflammation caused by the disease in a single treatment.
Across America there are millions of people who have gum disease but are not receiving treatment. Not only does gum or periodontal disease cause dental problems such as pain, receding gums and lost teeth, but it has also been linked to such medical issues as low birth-weight babies and heart disease. LANAP can help avoid all of these issues.
Most people are good candidates for the LANAP procedure, but will need to schedule a consultation to learn more about their options. The actual laser procedure involves several steps. First, the periodontist will probe the gaps between the gums and the teeth to determine the pocket depth. Next, the specialized PerioLase MVP-7 laser will be used to kill the bacteria and remove the diseased gums. With the area next to the teeth now open, ultrasonic scalers are used to remove calculus that has accumulated in the pocket areas. The gums are compacted against the roots of the teeth and seal against the teeth through clotting.
LANAP causes little discomfort for most patients and recovery time is short. Most people find they can assume their regular activities the same day as the procedure. By managing a patient's oral care, the periodontist can help the patient prevent additional problems with gum disease. It is important that the patient faithfully follow a daily regimen of teeth brushing and flossing, as well as regular dental appointments, to maintain good oral health. More information about gum or periodontal disease and the LANAP can be found at http://www.northcarolinaperiodontist.com.
Periodontics and Dental Implants Of North Carolina is a periodontal practice offering patients personalized dental care for Durham, NC. Dr. Jason Cataldo attended the University of Buffalo School of Dental Medicine, completed a general practice residency at Michael Reese Hospital in Chicago, IL, and completed his periodontal training at Case Western Reserve University in Cleveland, OH. He is part of one percent of dental professionals providing the most recent FDA cleared laser procedure for gum disease and periodontal treatment. To learn more about Periodontics and Dental Implants Of North Carolina and Dr. Cataldo's dental services visit their website at http://www.northcarolinaperiodontist.com.