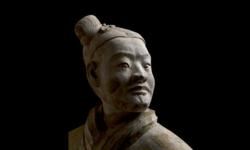 San Francisco, CA (PRWEB) March 25, 2013
What would you take to the afterlife?
The Crucible, in partnership with UC Berkeley's Archaeology Research Facility (A.R.F.), is excited to tackle this ancient question in the San Francisco Asian Art Museum's series, "Asia Alive."
"Asia Alive" is a free, interactive, all-ages program featuring live art demonstrations, hands-on activities, and discussions on themes relevant to the museum's seasonal exhibitions. The series currently focuses on the museum's exhibition, "China's Terracotta Warriors: The First Emperor's Legacy," which explores the young Emperor's worldview, enduring influence, and fixation on the afterlife.
Through the prism of art, The Crucible will take a dynamic approach to explore the First Emperor's obsession. First, participants will investigate ancient artistic techniques used for creating afterlife treasures, including glass fusing, jewelry, ceramics, and hammering. Then, participants will apply these techniques to create their own afterlife pendant. Video footage from renowned Crucible faculty, including foundry artist Nick DiPhillipo and blacksmith artist Carla Hall, will round out the series.
"Asia Alive" is a phenomenal opportunity to explore the First Emperor's life in a hands-on, community-oriented fashion. Between archaeological discussions, artistic explorations, and your own reflections about what you'd take to the afterlife, "Asia Alive" is bound to inspire creativity in everyone.
Information
What Would You Take to the Afterlife?
Fridays – Sundays, March 15–May 5, 2013
12:00PM – 4:00PM
San Francisco Asian Art Museum Ground Floor, Resource Room and Vinson Nook
200 Larkin Street, San Francisco, CA 94102
FREE with museum admission
About The Crucible
The Crucible is a 501(c)(3) non-profit arts education organization that fosters a collaboration of arts, industry, and community. Through training in the fine and industrial arts, The Crucible promotes creative expression, reuse of materials, and innovative design, while serving as an accessible arts venue for the general public in the Bay Area. Known for one-of-a-kind industrial arts education programs, The Crucible is also highly regarded for its innovative performances.
Address: 1260 7th Street, Oakland, CA 94607
Phone: (510) 444-0919